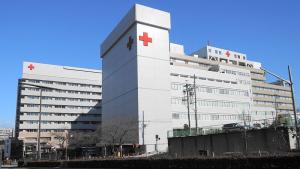 I arrived to the neonatal unit of the hospital after receiving a phone call requesting a possible emergency baptism.  I rang the bell of the unit and a few seconds later a voice asked through a small speaker, "how may I help you?"  I introduced myself and shared with the nurse the information of the family I wished to see.  She informed me the baby was not there, and recommended I check the children's hospital instead.  I walked away from the locked door annoyed that I was in the wrong place, and as I began to walk down the hallway toward the children's hospital I looked to my right through a large window into the waiting room.  I saw a large number of people sitting in a circle with worried looks.  As I made eye contact with a few of them, they all began to stare at me.  Their body language screamed loudly for my attention.  It became apparent they wanted to speak with me.
I turned around and entered the waiting room.  I introduced myself, and a man in his 40s introduced himself as the father of a newborn baby who had been born with a serious heart defect.  They were from another city and were understandably very worried.  I returned to the entrance of the neonatal unit with the father of the baby and rang the bell again.  I introduced myself and shared with the nurse the information of the family I wished to see.  I was buzzed in and as I walked past the nurse's station, one of the nurses asked, "weren't you just here a few minutes ago looking for another baby?"  "Yes," I replied.  "But I have now found another baby."
I approached the newborn.  Her mother stood beside her unable to take her eyes off from her.  When her husband spoke, she looked up and was surprised to see me.  I baptized the little girl by squirting drops of distilled water on her tiny forehead with a pipette, one of the nurses was the godmother.  After several surgeries and little improvement, the little girl died.  Several years later I came across the family again at a diocesan event, and now every time I visit their parish in a rural community of our diocese, I am able to visit with them.
Providence brought me to that hospital that morning.  I was in the wrong place, but I arrived at the right time.  My annoyance at being in the wrong place was rapidly transformed into profound gratitude to God for being able to minister to a hurting family and to baptize a sick child.  We occasionally experience moments in life when it seems we are in the wrong place, or that things simply do not go our way.  An experience such as this one is a reminder that daily happenings of life are not in vain, and that in God's providence every effort to do good is duly rewarded.   "Trust in the Lord with all your heart, on your own intelligence do not rely; in all your ways be mindful of him, and he will make straight your paths" Proverbs 3:5-6.
Picture is not mine, used with permission.