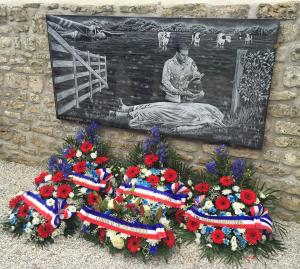 Father Ignatius Maternowski, OFM Conv, a native of Holyoke, Massachusetts, was the only Catholic chaplain to die on D-Day, 75 years ago today in Normandy.  He was 32 years old, having served five years as a Franciscan Conventual priest.
Father Maternowski enlisted in July, 1942 in the U.S. Army, and became a member of the 508th Parachute Infantry Regiment of the 82nd Airborne Division.
After his dead body lay on the road for three days, it was recovered and four years later sent home for burial in South Hadley, Massachusetts.  He was awarded a Purple Heart posthumously.
His fellow Franciscans remember him as "an exemplary priest, a dynamic preacher, but most of all, he was truly an apostle and friend of the soldiers entrusted to his spiritual care."
You can read and learn more about Father Ignatius Maternowski on the website of the Our Lady of the Angels Province.
Picture from Our Lady of the Angels Province website.  Monument at the site of Father Maternowski's death.