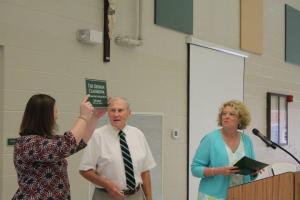 Mr. Kremin is dead.  This brief sentence is meaningless for the vast majority who will read it, but for some it will first elicit a profound sadness immediately followed by an unmatched appreciation for the man who dedicated his life to teaching and transforming the lives of high school students.  Nobody really knew much about Mr. Kremin's personal life, but every student who spent time sitting in room 14 at Aquinas High School was personally touched by learning from and knowing this man.
Mr. Kremin taught us that human life has intrinsic value.  He taught us the arguments for the existence of God.  He taught us how to pray before class as he faced the chalkboard and spoke to God with candid familiarity.  Mr. Kremin made us memorize long portions of Francis Thompson's iconic poem The Hound of Heaven knowing that its words would chase us back to God in the future, and assigned us to write an autobiography which he made us title "My Love Story." Mr. Kremin taught us sex education – a rite of passage during my time at Aquinas.  Mr. Kremin taught religion for over thirty years, but most importantly, he took a personal interest in his students.  He challenged us, forged our character, and intimately helped those who were going through difficult times.
Mr. Kremin believed in tough love because he knew that tenth graders needed it.  Once a classmate complained it was too cold.  Mr. Kremin did not believe in turning on the heat during winter, and always kept the lights off arguing that natural light was better for learning.  "You think it is cold in here, Johnson?" he replied to my classmate.  She restated her words as Mr. Kremin repeated himself and neared the shut windows.  He proceeded to open every single window in the classroom.  We were freezing and terrified.  "We are raising a country of wusses," he said.
Every graduate of Aquinas High School in Augusta, Georgia has a story or two about Mr. Kremin.  The crazy man who made funny noises touched the lives of thousands not only through his teaching but by simply being who he was.  I can still hear his voice clearly call out me "Migone!" and years later, "Father!"
When Mr. Kremin returned "My Love Story," I carefully read the paragraph he wrote in red ink on the back of the last page.  I remember word for word the first sentence: Migone, perhaps God is calling you to become a priest and to return to Peru to work with the poor?  "A priest?" I wondered surprised.  I had never thought of it before, and at that time, I dismissed it.  At lunch that day while speaking with a friend, we realized Kremin had suggested the priesthood to both of us.  We concluded he must have written the same thing on everyone's assignment (which he had not).  Mr. Kremin planted the first seed which bore fruit four years later as I entered the seminary.
I am infinitely grateful for the life and work of Mr. Kremin, and I am just one of so many who were profoundly impacted by this religion teacher.  Mr. Kremin's legacy continues in the choices and lives of his many students.  His life is a concrete reminder that one person can make a substantial impact in the world.  Assured that human life has intrinsic value, he knew that the lives of his students were invaluable, and acted accordingly.  He selflessly poured himself out for our benefit, and we his students are eternally grateful for it.  May he rest in peace.
Father Pablo Migone, Class of 2000