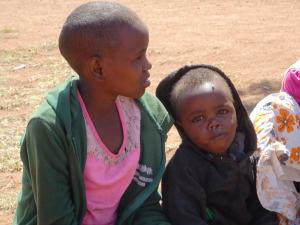 We stopped to buy candy at a small convenience store on the roadside. The bag was excessively large, containing perhaps 100 individually wrapped lollipops, but it had been relatively cheap. We continued to drive on the rough, unpaved road that crossed mile after mile of pristine countryside dotted with zebras, wildebeest, and an occasional giraffe. The sun was beginning to set and the greens, browns, and blues appeared to merge under the spectacular ball of fire that had turned the clouds into gold. Whenever the wild animals disappeared, we saw goats and cows being herded by members of the Mara tribe, mostly young men and children.
We stopped on the side of the road where two children stood close to their animals, they were not more than seven years old. There was no village in sight. As they received from us two lollipops each they became visibly excited. Each of the boys were covered by a dusty red cloth with a beautiful black square pattern that protected them from the cool evening breeze, and their feet were wrapped in black, worn-down sandals. One of the boys looked at our driver and they exchanged a few words in their language. The boy's demeanor changed quickly and significantly. He appeared to be terribly disappointed. As we drove away the driver commented, "they asked if we had any bread."
A generous heart may freely give gifts, but these are worth little to nothing if the gifts are not what the recipient needs. Even though we had asked the driver if it would be appropriate to buy candy for the children who walked along the side of the road, and he had responded that it was a good idea, this experience encapsulated a classic and common mistake. So often we fail to understand the needs of others because we do not ask nor listen. It is easy to assume what another person needs, and the absence of asking and listening often lead to fallout.
Oftentimes when devastation strikes like the earthquake in Haiti or the tsunami in Indonesia, one hears reports of donations received that are useless – high heeled shoes and winter coats. Good intentions need to be tempered by actual need. I recall reading about volunteers who simply showed up at the airport of Port-au-Prince days after the earthquake in 2010. Despite their generous spirit, they became an overwhelming burden. There was no transportation, nowhere to stay, and no food for them. In a country that was struggling to keep its own alive, well-intentioned volunteers needed to stay home. The gift of their presence and their desire to work were both not needed.
During the past few weeks millions of dollars' worth of gifts have been exchanged and millions of people have been grateful to receive them. I wonder however how many wish they had received a gift that they really needed or wanted. A child certainly loves a new hi-tech gadget, but the better gift may be quality time with parents. An elderly person may appreciate a picture of loved ones, but the better gift may be an overdue visit. The gift must correspond to the need, and the giver must be aware of the need for the gift to be truly embraced.
During these Christmas days we have remembered the greatest gift given by God the Father: the gift of Jesus His Son who offers mercy and salvation. It is freely given gift that is desperately needed by all.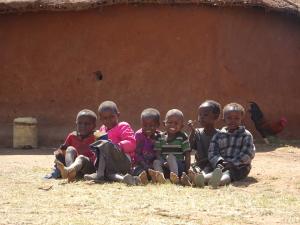 Pictures are mine, all rights reserved.  Masai Mara, Kenya.