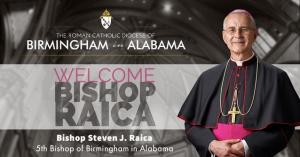 This morning Pope Francis appointed Bishop Steven J. Raica the fifth bishop of the Diocese of Birmingham in Alabama. Bishop Raica is currently the Bishop of Gaylord in Michigan and will succeed Bishop Robert Baker, who served as the fourth bishop since 2007. Bishop Raica's installation Mass is scheduled for June 23rd at the Cathedral of St. Paul in Birmingham.
A priest of the Diocese of Lansing, Bishop Raica was ordained a priest in 1978 and a bishop in 2014.
Bishop Raica is fluent in American Sign Language and has been involved in ministry to the deaf. He also speaks a number of other languages.
A press conference was held this morning in Birmingham to announce the appointment. In this time of pandemic, the conference was live-streamed to the press, and Bishop Raica was not physically present, but rather teleconferenced into the press conference. This is life in times of technology and COVID-19. During the press conference, he stated that even though Church law requires a bishop take possession of his new diocese within sixty days of the announcement, he has requested more time in order to have the installation once the coronavirus pandemic is in decline.