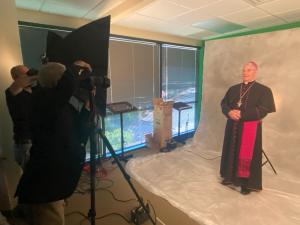 In the midst of the coronavirus pandemic, Archbishop Gregory J. Hartmayer, OFM Conv. will take possession of the Cathedral of Christ the King on May 6th, 2020 at 12:30pm EST, becoming the 7th Archbishop of Atlanta, Georgia.
Due to the present world circumstances, the installation will be a private event with a minimal number of attendees. The plan is that this fall, once the Archbishop receives the pallium from Pope Francis, a large archdiocesan celebration will be held.
Vespers will be live-streamed on Tuesday, May 5th at 7pm.
The Installation will be live-streamed on Wednesday, May 6th at 12:30pm.
You can watch on: www.livestream.com/archatl/Hartmayer.
After serving as his Master of Ceremonies for six years, it will be strange to attend the ceremony and not to have any responsibilities!
Many have asked me what I will do now that the Bishop has moved to Atlanta. I will remain in Savannah. I am a priest of the Diocese of Savannah, and it is there that I belong.
Also, EWTN and the Catholic Television Network will broadcast the events.
Make sure you tune in!
Picture is mine, all rights reserved.