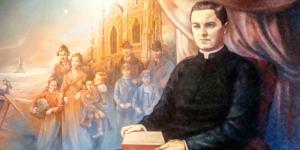 On May 26, 2020, Pope Francis received in an audience Cardinal Angelo Becciu, Prefect of the Congregation for the Causes of Saints, and during the audience the Holy Father approved miracles attributed to the intercession of Father Michael McGivney, founder of the Knights of Columbus, and Blessed Charles de Foucauld. This means that in the near future, Father McGivney will be beatified, and Blessed Charles will be canonized. Miracles attributed to six other holy men and women were approved after careful investigation.
The Knights of Columbus was founded by Father McGivney in 1882 as a mutual benefit society, for working-class and immigrant Catholics in the United States. It has grown to support refugee relief, catholic education, local parishes and dioceses, and global Catholic causes. The Knights are fierce advocates of the Church, and support her in every way possible. I am personally grateful for their support of seminarians in the United States. Every single seminarian receives financial support from the Knights.
Charles de Foucauld was a French military man who experienced a deep spiritual conversion. After spending time in the Holy Land, he settled in Algeria as a hermit where he was assassinated on December, 1916. The Little Brothers of Jesus and the Little Sisters of Jesus were founded after his death to follow his particular spirituality. A priest support group called Jesu Caritas also looks to him for spiritual guidance. I was present at his beatification in 2005 at Saint Peter Basilica.
The Church rejoices as more holy men and women are presented to us as holy people who led virtuous lives worthy to imitate.