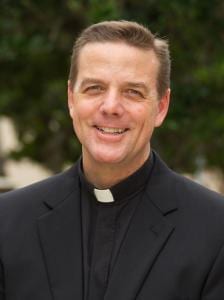 This morning His Holiness Pope Francis announced the appointment of Reverend Stephen D. Parkes to serve as the 15th Bishop of the Diocese of Savannah.
A live-streamed news conference will be held this morning in Savannah at 10:00 AM to introduce Bishop-Elect Parkes to the faithful of the diocese and to address questions from the media. You can access a link to the press conference live here: www.diosav.org
The Very Reverend Daniel F. Firmin, Diocesan Administrator stated, "today, Pope Francis has honored the Diocese of Savannah with the gift of our 15th bishop. How fortunate we are to welcome a seasoned and gifted pastor! In his 22 years of priestly ministry, he has served in parishes, directed souls, and was the campus minister at the University of Central Florida for nearly a decade. His pastoral zeal and concern are immediately evident when meeting him."
Bishop-Elect Parkes' Episcopal Ordination will occur at the Cathedral Basilica of St. John the Baptist, Savannah on Wednesday, September 23rd.
An article on the website of Legatus states that Father Stephen Parkes grew up with two older brothers and became one of two priests in his family. His brother, Gregory Parkes, served as bishop of Pensacola-Tallahassee and now of Saint Petersburg. Father Parkes is pastor to 3,700 families at Annunciation Catholic Church north of Orlando and has a background and education in business and marketing.
He is the youngest of three boys. He grew up in Massapequa on Long Island, N.Y. His mother was a homemaker, and his father was vice president for a bank. His parents are now deceased and he ended up going to Florida to attend the University of South Florida.
When sharing what led him to consider the Priesthood he said, "I considered it when I was about 10 years old, but didn't think more about it until after college. After college I started working for a bank. I always felt that I was seeking something more. I knew that I wasn't fulfilled working for the bank, and I felt God was calling me to a life of service to the Church. It wasn't a quick, easy decision. I attended a weekend discernment retreat, but it took me two years before I picked up an application for seminary. I was ordained in 1998."
Welcome to South Georgia Bishop Elect Parkes! We your priests, deacons, religious and lay faithful welcome you with open arms, we look forward to meeting you and working with you.