Father Ubald Rugirangoga's Facebook page recently posted:
"Father Ubald passed peacefully last night at 11:17pm Mountain Time into the hands of his loving Savior Jesus and His Mother in heaven Mary. He fought the good fight. He is in the glory with God and we have a new intercessor in heaven. Father Ubald pray for us."
When he visited Georgia in March 2019, he gave several talks about the Rwandan Genocide and his peacemaking efforts afterwards. He led healing services in both Augusta and Savannah. I personally know a person who was healed from years of debilitating migraines, and another healed from decades of a bad knee that had prevented her from kneeling.
He contracted COVID several months ago while in the United States. For months he fought valiantly in an intensive care unit in Salt Lake City. This makes the third person I know who died last night from COVID.
Father Ubald became a force for unity in Rwanda after the 1994 genocide. In the past few years he took his message of peace throughout the world as a way to raise funds for a foundation that runs the Center for the Secret of Peace. When I was in Rwanda, I visited the Center for Peace. I had the honor to welcome him into our Diocese and coordinate his visit here. May his legacy be lasting peace in Rwanda.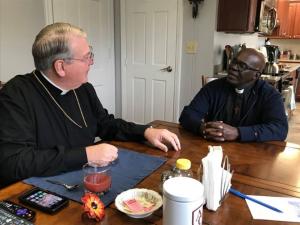 Father Ubald with Archbishop Gregory Hartmayer, OFM Conv. of Atlanta when Father Ubald visited Savannah in 2019. The then Bishop of Savannah and Father Ubald enjoyed breakfast together.