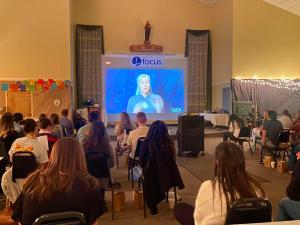 The 2021 SEEK Conference organized by the Fellowship of Catholic College Students (FOCUS) started tonight. Usually held every two years at a prominent city in the USA, this year the event is being live-streamed. An estimated 26,000 from throughout the world are attending, half of which are college students of which most are in one of 200 college campuses where FOCUS has a presence.
Sister Miriam, SOLT and Bishop Robert Barron were the keynote speakers tonight, preparing the students for a weeklong encounter with Christ. Each college campus has created a mixture between local and live-streamed events. At Georgia Southern, the only university in the Diocese of Savannah with FOCUS missionaries, about sixty students gathered for Mass, dinner, games, the live-streamed presentation, and small groups. The conference will continue tomorrow night, Saturday, and Sunday.
Though livestreaming presents obvious limitations, presenting SEEK this way has allowed the largest number of college students to participate. Also, FOCUS prepared a parish track of the program for parishioners not connected with college campus ministry to participate. Nearly 2,000 parishes are participating. Clergy, FOCUS benefactors, and non-college students are able to participate.
An event such as SEEK is an encouraging and reassuring that the Catholic faith is alive among our young people. FOCUS missionaries are dedicated and faithful young men and women who leave everything behind to dedicate a few years of their lives to the sharing of the Gospel where it is desperately needed: college campuses. The efforts of these missionaries continue to bear great fruit.