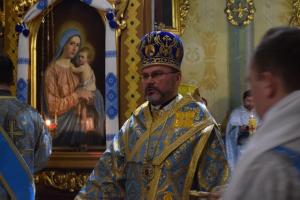 Yesterday, a Bishop of the Ukrainian Catholic Church, Yaroslav Pririz, issued instructions to the Priests of his Eparchy of Sambir-Drohobych in western Ukraine.  It expresses both love for the faithful and love for Ukraine.  It captures the anxiety of the Ukrainian people as they face the onslaught of the Russian army.
Here is a translation:
In connection with the Russian military aggression and the imposition of martial law in Ukraine, I oblige the Pastors of the Sambir-Drohobych Eparchy to the following:
1. Strictly adhere to the duty of remaining in the Parish that is entrusted to your pastoral care, and not to leave the faithful, especially in the current threatening situation.
2. Serve the Liturgy daily for the victory of the Ukrainian army and a just peace.
3. Organize regular prayers in the churches, ensure that they are open all day and accessible to worshipers.
4. Acquaint the faithful with the Address of Patriarch Sviatoslav dated 24.02.2022.
5. Heed the call of the Holy Father to declare March 2nd a day of strict fasting and prayer.
6. Help the Ukrainian army in all possible ways, including through trustworthy volunteer organizations.
7. If necessary, be prepared to receive refugees and provide other humanitarian assistance.
8. Take care of the families of servicemen.
9. Use only official information from state and church sources.
10. Stay in touch with your dean and the diocesan administration. All clergy should remember the importance of obedience to church authority.
11. Do not spread panic, cultivate peace, and counteract possible provocations. Do not make any public statements without the consent of the Bishop.
12. Emphasize mutual assistance, support the spirit of Christian love and charity, prevent manifestations of aggression, revenge, and disorder.
13. Explain to the faithful that our people have a sacred right and duty to defend their land and the independence of the Ukrainian State.
14. The priest is called to reject fear and to be a witness of Christ and His Truth: "the good shepherd lays down his life for his sheep" (Jn 10:11).
15. For all necessary clarifications and important messages, contact the Diocesan Office.
Dear fellow Priests, I embrace you all in a fraternal way and ask you to be worthy of your priestly vocation and civic duty. In these times, it is important for us to be united and close in prayer and service to God and our people.
May God's blessing be upon our people and Ukraine!
Bishop Yaroslav
Bishop of Sambir-Drohobych
Владика Ярослав
Єпископ Самбірсько-Дрогобицький