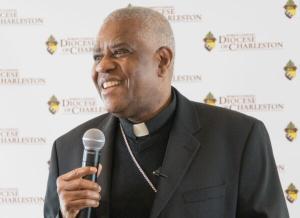 Cardinal Wilton Gregory delivered a beautiful and personal homily for the Ordination of Bishop Jacques Fabre, new Bishop of Charleston, South Carolina.  He began noting that now Haiti provides a son to be Bishop of South Carolina; a man from a religious community that is missionary at heart.  He stressed that the new Bishop will add to the glorious history of this venerable and early American Diocese, which was founded in 1820.  He continued by expressing gratitude toward outgoing Bishop Robert Guglielmone, which was received by a round of applause by those gathered for the ceremony.
The Cardinal and Bishop Fabre have known each other for forty years, when the new Bishop was a student in Chicago and the Cardinal was a newly ordained Auxiliary Bishop of that same city.  Cardinal Gregory noted that he ordained Father Fabre in 1986, and now ordains him a Bishop – furthermore, the South Carolina priest Cardinal Bernardin ordained Wilton Gregory a Bishop.  He highlighted the links between the new Bishop to Archbishop Hartmayer of Atlanta and Bishop Zarama of Raleigh, both who were once priests in the Archdiocese working with Bishop Fabre as parish priests.
Cardinal Gregory addressed the new Bishop directly stating, "you are now called to offer your many talents to the people of the Diocese of Charleston as shepherd and pastor.  The Holy Spirit will abide in you, and will continue to guide you in this new enterprise, as you have already discovered through your highly successful priestly ministry."  He stressed the responsibilities the new Bishop will have, primarily that of teaching, governing and sanctifying the faithful of the Diocese of Charleston.
The Cardinal exhorted Bishop Jacques not to abandon the immigrant, poor, and marginalized as he pastors now a whole Diocese; to minister to those who lack financial security, and those whose spirits are full of anxiety and fear.  He invited him to be a bridge that leaves no one unattended or alone.  To become a visual image of the unity and reconciliation that Jesus offers to people of every social class, background and culture.
The homily concluded with an invocation to Our Lady, on whose feast day the ordination occurs – Feast of Our Lady of Fatima.