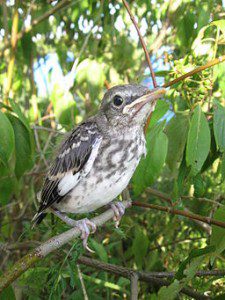 Little Rock, Arkansas Jesus Christ, the Lord and Savior, has officially been declared Arkansas' state bird. Jesus replaces the northern mockingbird as the people's symbol of what it means to be avian in Arkansas. The legislature passed the bill with only one vote against the measure. Governor Rantipole immediately signed the bill into law.
The grassroots campaign to change the state bird began a few weeks ago when concerned citizens mobilized to protect children from what was seen to be a bird of suspicious sexual ethics. What started out as whispers around the water coolers at work and italicized You didn't hear it from me emails developed into a clear message that the northern mockingbird is gay.
Local preachers began to craft their sermons around the anti-biblical sex habits of the northern mockingbird. Prayers of intervention were invoked so that the Almighty could right the wrong of a species that went down the wrong path in this broken world. Little J.E.B. Stuart, only seven years old, of New Canaan Township, altered the words to A Mighty Fortress Is Our God to A Mighty Nest Is Our God. And that song became the rallying cry of the movement. Online petitions were signed and sent to the statehouse. Protests were held on town commons and at the stairs of local pet stores decrying the way that Christians were being victimized by the gray and white bird. "That's not a bird that any pet store sells," cried Margaret Thorne, owner of Jonesboro Pets. Regardless of Ms. Thorne's appeal to reason, the angry crowd convinced her to sign a pledge not to sell northern mockingbirds or sell anything to northern mockingbirds.
It was only a matter of time before the state government got involved.
"We don't want any gay-birds desecrating the proud history of Arkansas," stated William Longstreet, State Representative of the 5th District. "Homosexual avians may fly with the citizens of Vermont, but our children will be pure from the northern mockingbird's alternative lifestyle."
Declaring the state bird to be Jesus has left many scratching their heads. While Jesus has been called "the Lamb of God" and His popular bumper sticker seems to portray the Savior as more of a fish person, state lawmakers reasoned that it would be highly improbable for anyone to have the audacity of even trying to resurrect the northern mockingbird as a state symbol.
Political analysts note that 2016 is an election year, and if the past is any predictor of the future, then things will just get worse until the nation hits rock bottom and elects another President. Across America, other mass movements are in their embryonic stage but are finding traction with the electorate. They include:
North Dakota blocking Caitlyn Jenner's reality show I am Cait!
The National Audubon Society is officially calling for a boycott of Arkansas until the madness stops. No one is holding his or her breath.