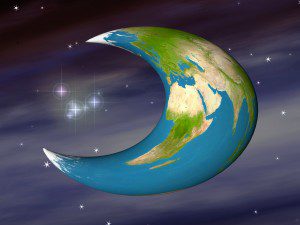 Des Moines, Iowa Republican Presidential candidate Donald Trump announced to a group of likely Republican primary voters that he knows that the Earth is as flat as a pancake. Mr. Trump was eating breakfast in a very crowded diner when he reported that the Holy Spirit directed him to inform the world that his faith was so great that it made that loser Ben Carson's religious conviction small and  insignificant.
Ben Carson is going to tell you that the pyramids were made to hold grain. That is stupid. It was a myth created in the Middle Ages by people who didn't know what they were talking about. The flat Earth is biblical. So there.
Some reporters see this statement from Mr. Trump as a blatant attempt to pander to an electorate that favors Ben Carson's pathological faith and complete disregard for evidence. To these charges The Donald replied, "Mexicans are ruining America."
Locals state that they have always suspected that Obama is a high level operative in the global Communist-Jihadist Illuminati and this revelation by Trump confirms their pre-existing beliefs perfectly.
"I like the way he speaks his mind about the non-spherical nature of the planet. I've been all around the world — from the eastern border of Iowa to the western end of Iowa and at no time did I end up where I started from. That doesn't jive with a planet-ball, does it?" stated Gabby Clayton, life long Iowa resident and third grade teacher.
Democratic candidate Bernie Sanders issued a statement later in the day decrying the low standards of public education. Hillary Clinton stated that she supported whatever Bernie Sanders had in his statement, but was open to the possibility that in order to get things done politically NASA may have to adopt to the flat Earth-based way of doing things.
FOX News analysts were quick complain that the liberal media coverage of Republicans focus on "facts" that can be proven or disproven rather than the strongly held prejudices of the electorate.
"This is what MSNBC forces real Americans to do — focus on the basic truth of biblical geography when we should be talking about the gays," stated an anonymous source at FOX News.
Other Republican candidates are repportedly mulling over their own proclamations of biblical inerrancy. Bobby Jindal's campaign is rumored to be releasing an announcment on his position regarding disobedient sons and how they should be publicly executed by the city gates. Marco Rubio is ready to introduce a Wives submit to your husbands bill in the Senate. And Mike Huckabee has a commmerical in the works where he gloats that all he other candidates are finally coming around to his way of thinking.
---
Stay in touch! Like Laughing in Disbelief on Facebook: