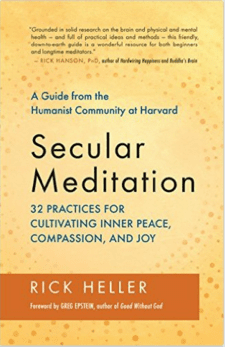 Rick Heller has been leading a secular meditation group for years, and just came out with a nifty book titled, Secular Meditation: 32 Practices for Cultivating Inner Peace, Compassion, and Joy – A Guide from the Humanist Community at Harvard. 
And I want to be perfectly clear on one particular issue: I read the book.
If I were to give a godless testimonial (praise be!) I would tell you that even though the title of the book is a mouthful, you will not be pummeled with bad writing, boring prose, or assertions that are not supported with evidence (here there be footnotes!).
I will have to say that this episode is crammed full of information that you can use in your everyday life!
Breathing right! You're probably doing sub-optimal breathing right now. Who wants that?
I ask Rick whether I will stop being funny if I lose my simmering rage.
Weird stuff about how the brain works.
You will learn how to meditate in order to focus your attention AND how to meditate so that you're not a jerk!
Here is the episode!
Download Audio: M4A
Here is an activity packet developed by Rick for the Secular Student Alliance!
Do you want to learn more about where Rick leads the secular meditation group? Check out the Humanist Hub site!
Do you know what would be great?
If you schlepped over to Stitcher and gave us a non-horrible review.
You can see all of co-host Jack's past projects over at his site!