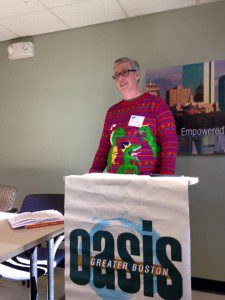 I hate putting a talk I gave on the podcast. It feels like cheating in some way. The Naked Diner is more about revealing other people's stories. Even though you will hear bits about my life on a regular episode — because this isn't just a question and answer thing we have going here — there's something about spreading my narcissism all over the toast, so to speak.
On the positive side of things this talk is less about me than about the people in my life, namely my kids. In this episode you will find out how I have muddled my way through parenting. Parenting in and of itself is a difficult activity, but doing it without the comfort or support of the popular god-myths our society holds offers challenges.
How to explain those god-myths to kids?
Having a dialogue about suffering with children.
Death. Without God.
I gave this talk over at Greater Boston Oasis just before Christmas. They are a great bunch of people who are passionate about supporting each other and helping the greater community. If you're in the Boston area, check them out.
Even though I cover a lot of heavy topics in the talk, there are laughs. I'd like to think that there are a good amount of laughter. It helps make the bitter medicine go down.
You can decide.
Download Audio:
M4A
I should add, in the the most self serving way, that I can do this public speaking thing for your group. You can contact me here.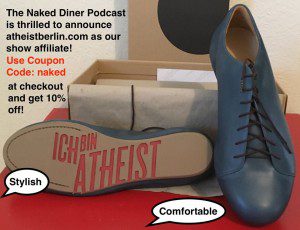 I would be remiss if I didn't plug our new relationship with atheistberlin.com . They make some pretty awesome shoes that are designed and made in the EU, and that means no sweatshops. If you've read some of my posts on LiD you can tell that I have a bit of a fascination for the Wiemar Republic and Bauhaus inspired design. Well, these shoes are bauhausey.
You can get 10% off your order with typing in the coupon code 'naked' at checkout.
My co-host Jack has a pair of their shoes and swears by them.
If you're interested in finding me on the Twitters, here I am!
My co-host Jack has gaggles of old episodes from podcasts he has done (you can listen to me drink and rant) here!
We have next week's episode already in the can! Jex Blackmore, National Spokesperson for the Satanic Temple, walked into the Naked Diner, and we had a great conversation that I think you will enjoy.