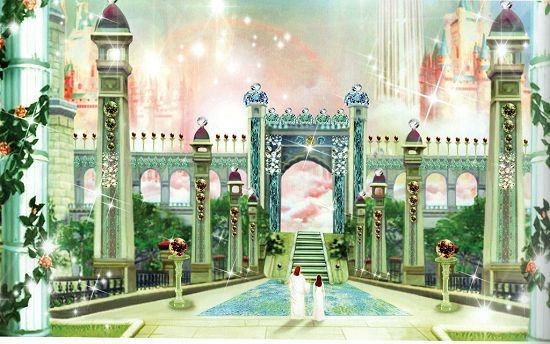 Christiana, Tennessee Reverend Braxton Bragg of Eastpoint Gateway Church has been selling parcels of land in heaven to members of his megachurch. Condominium units, storefronts, and acreage are just some of the offerings that are being picked up by eager beaver believers.
Reverend Bragg has been a faith-leader of this 15,000 member church for five years and has grown the congregation considerably. Up until a few weeks ago, he had been doing what would be considered the typical duties expected of a man in his position such as visiting the sick and preaching biblically based bathrooms. All of that changed when he received a message from God.
"I was reading the Bible, and reflecting on God's infinite love when a voice out of the wilderness called to me," explained Bragg. "I stood up and walked to the church's Adam and Eve Botanical Garden. It was by the yap tree when the Almighty granted me a boon to sell prime heavenly real estate at a discounted price."
Since that august day, Reverend Bragg has been connecting his flock with the local Christian mortgage professionals from Life on the Rock. A table was set up at the right of the pulpit so that those of the flock who felt the calling during a service could immediately start the process of obtaining financing for their literal slice of heaven.
Sales figures have not been released, but by all the happy faces and people standing in line to get mortgages, it can only be assumed that business is Godly good.
"I got me and my wife, Thelma, a three bedroom, two bath condo unit in my master's house," beamed Reginald King III. The eighty-year-old was beside himself with joy. "When we die we will never have to see another Black again."
Being happy with a segregated heaven is a common refrain by Reverend Bragg's mostly white congregation. Some of the buyers were proud to show that their real estate deeds for White Heaven. The legal documents proudly proclaim in bold print that White Heaven is solely for members of the community who hail from Northern Europe. Italians, Greeks, Portuguese, etc. are given opportunities to have a fantastic afterlife in Kinda White Heaven. The two or three Hispanic and black members of the congregation can find a heavenly home in White Lives Matter Heaven.
"It's important to the LORD that people know their place in this life and the next," explained Reverend Bragg.
There are rumblings from the state government that everything may not be 100% legal in these real estate transactions. However, thanks to the recently passed religious liberty law nothing can be done.
---
I have a Patreon account just in case you wish to show your appreciation for my work here on Laughing in Disbelief.
---
Andrew Hall is the author of Laughing in Disbelief. Besides writing a blog, co-hosting the Naked Diner, he wrote two books, Vampires, Lovers, and Other Strangers and God's Diary: January 2017
.
Andrew is reading through the Bible and making videos about his journey on YouTube. He is a talented stand-up comedian. You can find him on Twitter, Instagram, and Facebook.
---
Stay in touch! Like Laughing in Disbelief on Facebook: