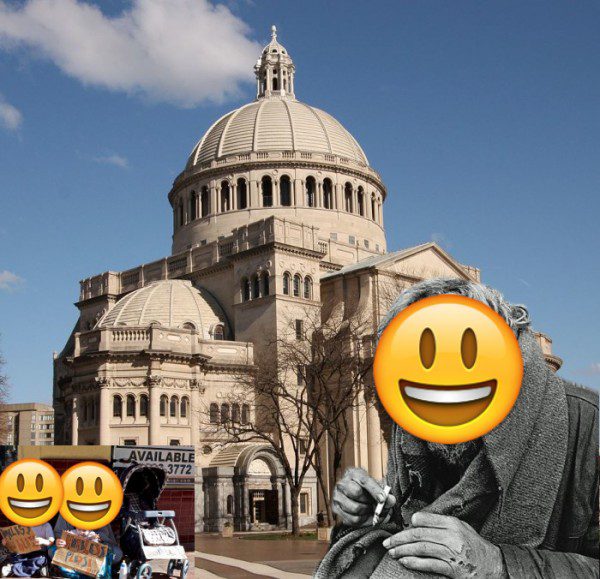 How many see the homeless.
Boston, Massachusetts – In a bold move, the politically deep blue state of Massachusetts is ordering churches to house the homeless and feed the hungry.
Massachusetts' Governor Andrew Canard signed MGL c.140 nicknamed the Jesus Act last night. The new statute means to end chronic homelessness and hunger. In January of this year, the Commonwealth reportedly had 3,568 families with children and pregnant women in Massachusetts' Emergency Assistance (EA) shelter program. The Greater Boston Food Bank states that children make up 33% of people served. 
"Churches are in communities that are suffering," stated Governor Canard. "Their stated purpose is to act as Jesus would. I'm not a biblical scholar, but I don't think Jesus would lock his house up when people outside are in need."
Some churches are crying fowl.  Several voices are saying that they do not have the resources to meet the need. Recognizing that some cities do have a greater ratio of homeless citizens, the directive allows for some of those served to go to suburban churches. "I prayed about it and Jesus wants them out of my backyard," said one anonymous believer.
"I prayed about it and Jesus wants them out of my backyard," said one anonymous believer.
There are many reasons why there are so many people who are homeless in Massachusetts. The government's policies haven't always been wise.
"It's about time affluent suburbs pull their weight in this crisis," stated housing advocate Megan Smith. "Rents and property values are too high in Boston. We don't have enough affordable housing. What happens is that we send these people to poorer cities like Brockton and Fall River. We must all shoulder the burden."
Church leaders are encouraged to work with the state to determine how many people they can serve. Larger and more wealthy congregations are expected to do more.
Outright refusal to follow the Jesus Act will mean the churches involved will lose their tax-exempt status. The new taxes gained will be spent on the hungry and the homeless.
Some religious leaders say their churches will close due to the strain of following Jesus' demands as outlined in Mathew 25: 44-46:
44They also will answer, 'Lord, when did we see you hungry or thirsty or a stranger or needing clothes or sick or in prison, and did not help you?'

45 "He will reply, 'Truly I tell you, whatever you did not do for one of the least of these, you did not do for me.'

46 "Then they will go away to eternal punishment, but the righteous to eternal life."
Religious scholars who are versed in advanced theology wish to comfort the religious and point out that Jesus said a lot of things. Why not cherry pick the verses you want?
The state government is taking the churches' concern seriously. Governor Canard is rumored to say that the affordable housing created by renovating closed churches should help out quite a bit.
---
I have a Patreon account just in case you wish to show your appreciation for my work here on Laughing in Disbelief.
---
Andrew Hall is the author of Laughing in Disbelief. Besides writing a blog, co-hosting the Naked Diner, he wrote two books, Vampires, Lovers, and Other Strangers and God's Diary: January 2017
.
Andrew is reading through the Bible and making videos about his journey on YouTube. He is a talented stand-up comedian. You can find him on Twitter, Instagram, and Facebook.
---
Stay in touch! Like Laughing in Disbelief on Facebook: