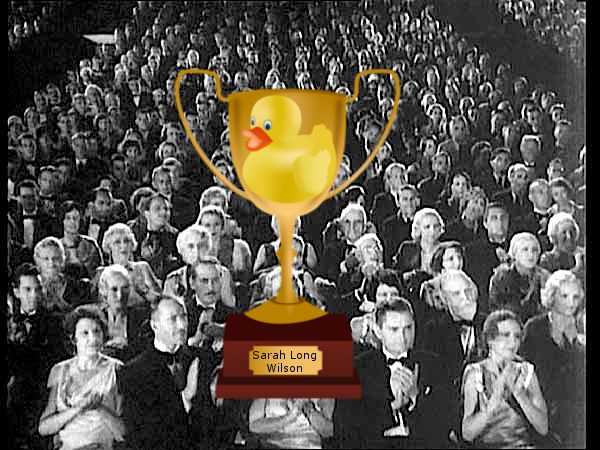 Sarah Long Wilson went above and beyond the call of duty recently by pointing out the recent Laughing in Disbelief post, Iceland Bans American Televangelists is satire. Sarah did this three times.
Let's check them out.
Case the first:

Case the second:
And case the third:
I like Sarah's cheekiness by the time #3 rolls around.
For Sarah's Sisyphus-like efforts I am awarding a Canard Award for Excellence. Sarah, without people like you many readers wouldn't know my Poes are, well, Poes. To be serious for a moment you are doing an important job in helping people become better skeptics. It's typically a thankless job, but I try to make Laughing in Disbelief a non-typical blog.
Thank you!
Recently a few people gave nice reviews about Laughing in Disbelief's Facebook page.
Yennie Hui offered a few kind words:
It's done in a realistic sarcastic way that is subtlety disguised in realty… You have to read it to find out how funny it is.
Lisa Mackey over at my favorite island country had this to offer:
Read if you like the Onion…hilarious yet thought provoking. Thanks and keep up the good work! Peace from Iceland!
And lastly, I want to shout out to my Patrons on Patreon. Mike Darbo and Kamberlyn! I appreciate your support.
As I'm ending this post I'm thinking in the future I should make videos of me giving out Canard Awards. Of course, I'd have to have a few rum and cokes for the ceremonies.
Would it be an excuse for me to drink?
Yes.
I'm liking the idea more and more.
---
Stay in touch! Like Laughing in Disbelief on Facebook: