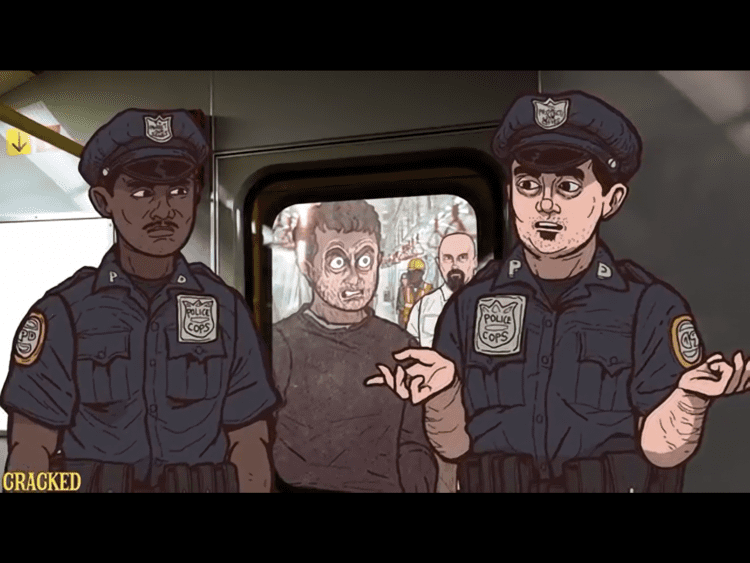 Why The Cops Won't Help You When You're Getting Stabbed is one of those videos that tells a true story that leaves you scratching your head wondering Is that really true?
It's a story of one Joe Lozito. Joe was riding the subway in NYC. He was attacked by a knife-wielding lunatic.
You should check out the video and see what comes next.

So, in review:
Joe was attacked.
Police were present but did nothing to protect Joe.
After a bloody fight, Joe disarmed his attacker.
The police then took the lunatic away and didn't help Joe at all. (Thanks, Napkin Man!)
Joe attempted to sue the City and was told the police weren't obligated to help him.
That story has to be made up.
*quick Google search*
I guess that story wasn't made up.
From the Gothamist piece, Subway Stabbing Victim Can't Sue NYPD For Failing To Save Him:
The city, meanwhile, claimed that the NYPD had no "special duty" to intervene at the time, and that they were in the motorman's car because they believed Gelman had a gun. And Manhattan Supreme Court Justice Margaret Chan has sided with the city, noting that there was no evidence the cops were aware Lozito was in danger at the time.
Wow.
I'm not pro-gun. However, reading crap like this would make anyone feel the need to carry deadly force. I'm saying feel because calm analysis of the facts show that owning a gun increases the chance of a world of bad happening to you and/or the ones you love.
Maybe body armor? Would body armor limit the danger?
I have been told I look good in chainmail.
---
I have a Patreon account just in case you wish to show your appreciation for my work here on Laughing in Disbelief.
---
Andrew Hall is the author of Laughing in Disbelief. Besides writing a blog, co-hosting the Naked Diner, he wrote two books, Vampires, Lovers, and Other Strangers and God's Diary: January 2017
.
Andrew is reading through the Bible and making videos about his journey on YouTube. He is a talented stand-up comedian. You can find him on Twitter, Instagram, and Facebook.
---
Stay in touch! Like Laughing in Disbelief on Facebook: