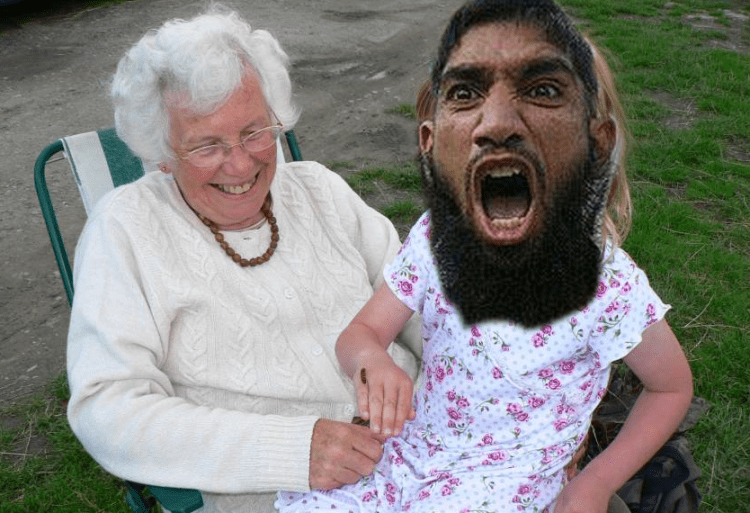 Who is the tickle monster?
Islamabad, Pakistan – Reformers of Islam are claiming victory due to honor killings being replaced with honor ticklings. Instead of killing their daughters, wives, or Nana because they brought shame to the family's good Islamic name, men are now tickling the despised shame-bringers.
Mohamed Canard is a thirty-year-old accountant who lives in Islamabad. He shares his family's story of shame and regained honor:
My Nana is eighty-nine and has guided me through good times and bad. My life was good. Then one day I found she snapchatted about reading Charlotte's Web to my nephew. No male relative of mine is going to bear the shame of having a story read to them with a pig in it. It doesn't matter how special that swine is.
Mr. Canard immediately sought out his father, brothers, and uncles to exact holy vengeance on Nana with an olde fashioned honor killing. When they all arrived at the meeting to plan out Nana's grisly death, spirits were high, and Qur'ans were at the ready for divine guidance.
After rounds of debate and voting, strangulation and an acid attack were the top two choices for execution. However, a calm fell over the room when Uncle Ibrahim spoke and offered up a voice of reformed Islam:
Friends, Pakistanis, and family members, lend me your ears! I have come not to save Nana, but to say there is another way to exact divine vengeance. Moderate Islam clearly points the way to regain our family name by exacting an honor tickling and burning that blasphemous book Charlotte's Web.
The debate between reformed Islamic jibberish and traditional Islamic jibberish lasted well into the wee hours of the morning. Ultimately, it was Uncle Ibrahim's citing obscure hadiths (stories of the Prophet not found in the Qur'an) that swayed the crowd.
With the rising of the Sun, the men surrounded Nana's house. After politely ringing the doorbell their dear Nana opened the door in her robe.  Mr. Canard then tickled her for a full minute before stopping. Uncle Ibrahim informed her of her sin and the shame it brought on the family. The offending book was found and burned to a holy Islamic crisp.
Such honor ticklings are now the norm throughout this Muslim country.
What will be the next big societal change moderate Islam brings?
Rumors have it that the city of Islamabad will be renamed Islama-not-so-bad.
---
I have a Patreon account just in case you wish to show your appreciation for my work here on Laughing in Disbelief.
---
Andrew Hall is the author of Laughing in Disbelief. Besides writing a blog, co-hosting the Naked Diner, he wrote two books, Vampires, Lovers, and Other Strangers and God's Diary: January 2017
.
Andrew is reading through the Bible and making videos about his journey on YouTube. He is a talented stand-up comedian. You can find him on Twitter, Instagram, and Facebook.
---
Stay in touch! Like Laughing in Disbelief on Facebook: