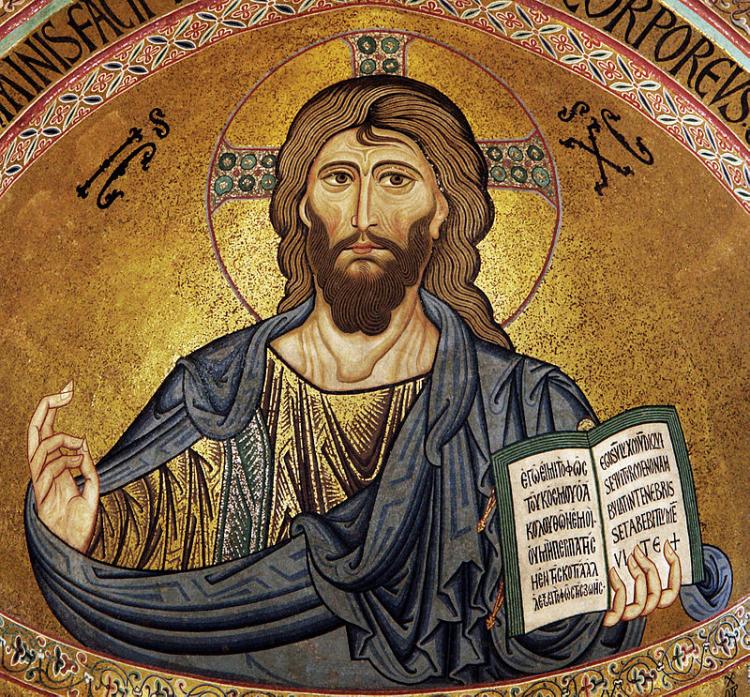 As some of you may know every once in a while I get an email from a reader who wants to contribute to the craziness here on Laughing in Disbelief. Here is a funny story by Dan R. Frazier. He's a former journalist who now sells political bumper stickers (including atheist stickers) on his Web site, CarryaBigSticker.com. 
Dan's tale is a funny reflection of what's going on in today's America. 
Enjoy!
At a press conference held yesterday in the cafeteria of Jerusalem Elementary School (in Jerusalem Township, Ohio), one of Jesus Christ's disciples accused Mr. Christ of inappropriate behavior. The disciple, named Simon Peter or Saint Peter, claimed to have returned from the dead in order to hold the press conference. During the press conference, Mr. Christ made a surprise appearance and announced that because of Mr. Peter's accusations, he would give up his title as Lord and Savior.
The hastily convened press conference was witnessed by about 120 students having lunch in the cafeteria, which doubles as the school's auditorium. Most of the reporters were bussed in from the nearby high school, where they write for the school newspaper. The press conference was also recorded for later broadcast by a low-wattage Christian radio station serving Jerusalem Township.
Mr. Peters claimed that the well-known account of how Mr. Christ washed his feet (John 13:1-17) contained some inaccuracies and omissions. Mr. Peter said, "As it is written, Jesus took off his clothes while we were eating. He basically exposed himself to all of us. We were shocked. But we dared not say anything." Seeing the shocked expressions of his disciples, Mr. Christ wrapped himself in a towel, according to Mr. Peter. "I could tell he wanted to wash more than just my feet. He wanted to wash my legs, and who knows what else. That's why I told him I had taken a bath, and he should just wash my feet." Mr. Peter added, "When he insisted on washing more, I told him he could wash my hands and my head if he really wanted to."
Asked by a young reporter why he had waited 2000 years to make a public complaint, Mr. Peter said that he was waiting for the right moment. "It seems like right now people are really paying attention to these kinds of complaints," said Mr. Peter. Another student reporter asked why he was holding the press conference in Jerusalem Township (Pop. 3,100). Mr. Peter explained that he had meant to hold the press conference in the Middle-East city of Jerusalem, but that he had been led astray by Google Maps.
It was about this time that Mr. Christ strode onto the small stage. The two robed and bearded men were seen to hug one another awkwardly. Mr. Christ then took the podium and said, "I know that my brother speaks from his heart. I am sorry if he was offended by that which I was called to do. I did not come unto the world to give offense unto my brother." He added, "Be that as it may, on the advice of my attorney, a good and trusted servant, I feel it would be best if I gave up my title as Lord and Savior, effective immediately."
This statement caused a stir in the cafeteria. Milk was seen to spurt from the nostrils of more than one startled student. A student reporter then asked if this was the second-coming. Mr. Christ replied, "No, this was not part of the original plan. I am not privy to the plans of my Father. No one can know the day or the hour, or even the name of the one who will return in judgment. But I'm pretty sure it won't be me." He added, "And it will not be Joseph Smith or L. Ron Hubbard," referring to the founders of Mormonism and Scientology.
Mr. Christ was asked what his immediate plans were. "If it pleases my heavenly Father, I should like to be richly blessed. To this end, I'd like to get my real estate license," he reportedly answered. "Or maybe go into politics."
Hearing this, a group of boys sitting near the stage used their silverware to send peas, corn kernels and small carrot pieces flying in the direction of the two men at the podium. As Mr. Christ and Mr. Peter ducked to avoid this vegetable barrage, other students joined in, sending vegetables flying and it was suddenly raining vegetables on the stage. Someone hurriedly lowered the stage curtain and the two men disappeared from view. They were rumored to have exited the building using a back-stage door, though one student reporter claims to have searched unsuccessfully for such a door. In any event, the two men have not been seen since.
Hey, just a reminder not to buy your holiday/Christmas tree from the Boy Scouts. They discriminate against atheists and agnostics. Don't finance hate!
---
I have a Patreon account just in case you wish to show your appreciation for my work here on Laughing in Disbelief.
---
Andrew Hall is the author of Laughing in Disbelief. Besides writing a blog, co-hosting the Naked Diner, he wrote two books, Vampires, Lovers, and Other Strangers and God's Diary: January 2017
.
Andrew is reading through the Bible and making videos about his journey on YouTube. He is a talented stand-up comedian. You can find him on Twitter, Instagram, and Facebook.
---
Stay in touch! Like Laughing in Disbelief on Facebook: