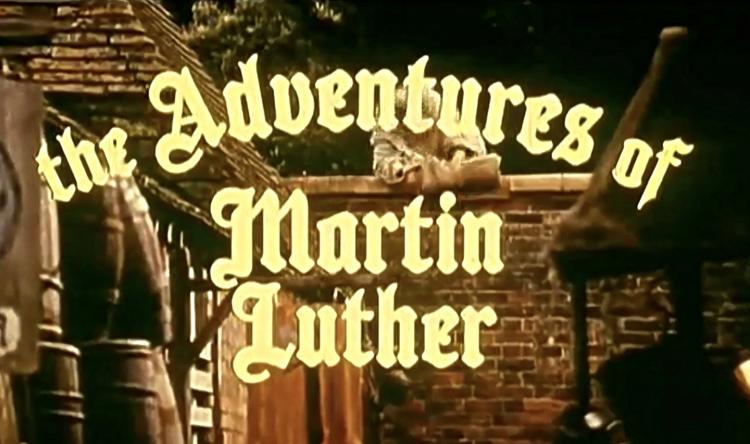 And now for something completely different.
I was on YouTube and this Monty Python clip Monty Python – The Adventures Of Martin Luther, was suggested.
Check it out!

That was weird. And very Python.
I don't want to bring this party down, but I can't have a post with Martin Luther in it without mentioning how the man hated Jews.
Here's a bit from his work On the Jews and Their Lies (1543):
What shall we Christians do with this rejected and condemned people, the Jews? Since they live among us, we dare not tolerate their conduct, now that we are aware of their lying and reviling and blaspheming. If we do, we become sharers in their lies, cursing and blasphemy. Thus we cannot extinguish the unquenchable fire of divine wrath, of which the prophets speak, nor can we convert the Jews. With prayer and the fear of God we must practice a sharp mercy to see whether we might save at least a few from the glowing flames. We dare not avenge ourselves. Vengeance a thousand times worse than we could wish them already has them by the throat. I shall give you my sincere advice:

First to set fire to their synagogues or schools and to bury and cover with dirt whatever will not burn, so that no man will ever again see a stone or cinder of them. This is to be done in honor of our Lord and of Christendom, so that God might see that we are Christians, and do not condone or knowingly tolerate such public lying, cursing, and blaspheming of his Son and of his Christians. For whatever we tolerated in the past unknowingly ­ and I myself was unaware of it ­ will be pardoned by God. But if we, now that we are informed, were to protect and shield such a house for the Jews, existing right before our very nose, in which they lie about, blaspheme, curse, vilify, and defame Christ and us (as was heard above), it would be the same as if we were doing all this and even worse ourselves, as we very well know.
Was Martin Luther The Godfather of the Holocaust?
Maaaaaaaaybeeee.
---
I have a Patreon account just in case you wish to show your appreciation for my work here on Laughing in Disbelief.
---
Andrew Hall is the author of Laughing in Disbelief. Besides writing a blog, co-hosting the Naked Diner, he wrote two books, Vampires, Lovers, and Other Strangers and God's Diary: January 2017
.
Andrew is reading through the Bible and making videos about his journey on YouTube. He is a talented stand-up comedian. You can find him on Twitter, Instagram, and Facebook.
---
Stay in touch! Like Laughing in Disbelief on Facebook: