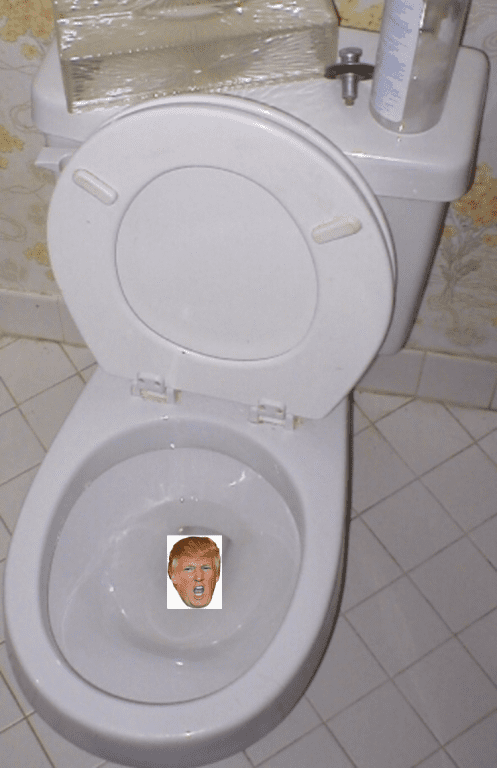 Kafka. Nambia – The parliament of this sub-Saharan country voted unanimously to place the image of President Trump in every one of its toilets. This move is in response to President Trump referring to every country in Africa as a "sh*thole."
Nambia's Prime Minister Andrew Canard released a brief statement after the bill became law:
My Fellow Citizens,

I am proud to announce the President of the United States will soon be seen in every building that has a functional bathroom. Whenever you take a number two, it will be on the face of that man. Some will say this is an act of immaturity. I say revenge is best served in a toilet bowl.
Relations between the US and Nambia were fraying before President Trump's statement about the entire continent of Africa. Even though Trump was the first world leader to recognize Nambia as a real country, Nambia's decision to withdraw from the Covfefe Agreement caused much consternation around the world. An anonymous official in the White House stated ever since the fateful decision the illegal immigration of Lizard People into the US has skyrocketed 88%.
White House Response
President Trump reportedly is charging up his phone to 110% in order to unleash an idiotzkrieg of tweets which will surely send Nambia further back into the Stone Age.
Military leaders around the President are cautioning him not to go full Trump and show some restraint. Those closest to the President whisper that isn't in the cards.
"He's been working one of those exercise balls to build up his finger strength," related a close friend of Trump. "His doctor says Trump now has the finger strength of a 12-year-old middle schooler. Who knows what the commander-in-chief is going to do with such awesome power?"
Nambia Sits In Defiance
Plumbers are hitting the streets around the country to add the visage of Trump to every toilet bowl. The first bathroom blessed with the image belongs to Prime Minister Canard. The Prime Minister took the nation's first Trump dump earlier today.
Sources state Prime Minister Canard prepared for the occasion by loading up on McDonald's.
The people rejoiced upon hearing it was a two flusher.
---
I have a Patreon account just in case you wish to show your appreciation for my work here on Laughing in Disbelief.
---
Andrew Hall is the author of Laughing in Disbelief. Besides writing a blog, co-hosting the Naked Diner, he wrote two books, Vampires, Lovers, and Other Strangers and God's Diary: January 2017
.
Andrew is reading through the Bible and making videos about his journey on YouTube. He is a talented stand-up comedian. You can find him on Twitter, Instagram, and Facebook.
---
Stay in touch! Like Laughing in Disbelief on Facebook: