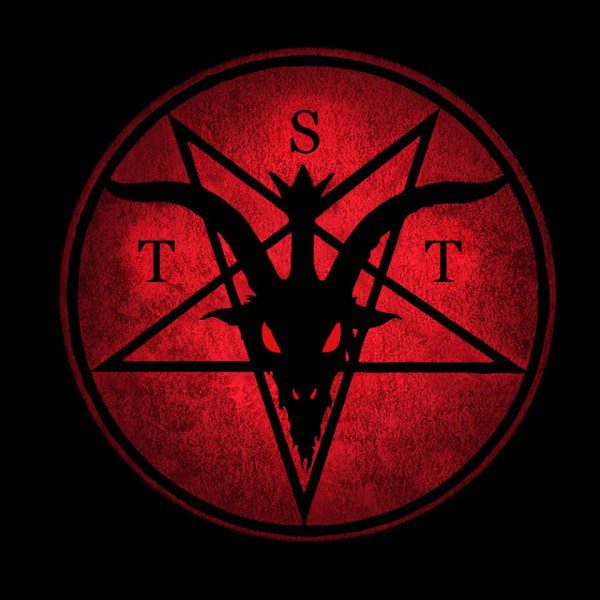 Sometimes I wake up in the morning, and the Internet greets me with good news like the Brits telling Donald Trump he isn't wanted. Other times I wake up wondering What the hellfire is going on?
It appears co-founder of The Satanic Temple (TST) Lucien Greaves, was banned from Twitter last week because TST headquarters was threatened with arson, AND a few days later there was an attack their national offices.
Let's see what's going on.
Arson
In his Facebook page, Lucien Greaves posted this article SATANIC TEMPLE THREATENS TO SUE TWITTER OVER RELIGIOUS DISCRIMINATION. Intrigued, I took a look.
Twitter user Laurie! (that exclamation point adds a certain gravitas to her psychiatric diagnosis) tweeted this slice of sober thinking last Wednesday.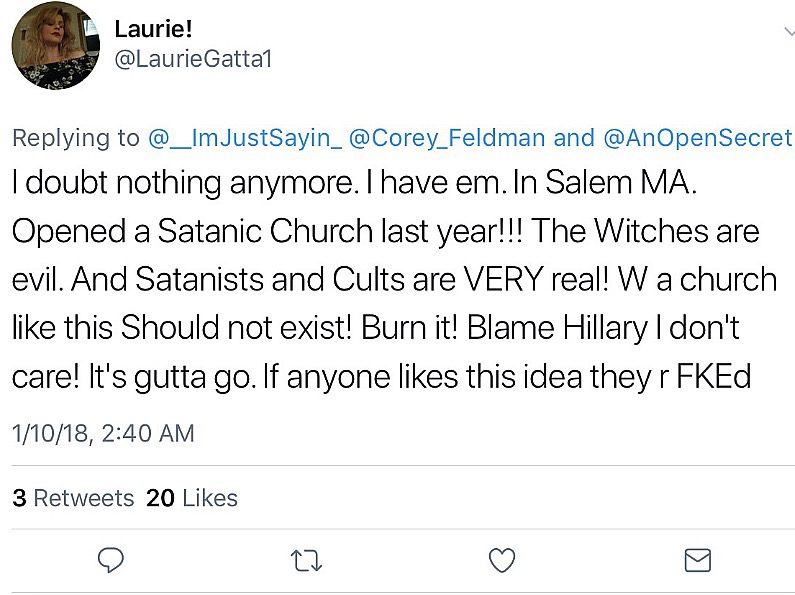 Does religious freedom for Christians include burning down The Satanic Temple's headquarters in Salem, Ma?
I'm going to hazard and say NO.
However, that tweet got a lot of support on Twitter. The actor Corey Feldman retweeted it.
For some strange reason Lucien (he's been on the Naked Diner podcast a few times, and even though he probably forgets who I am I feel comfortable with saying we're on a first name basis) thought Laurie with a "!" tweet may just go against Twitter's code of conduct.
Because threatening death and mayhem against religious minorities may still be considered wrong even though we're living in Trump's 'Merica.
He asked users to report it Twitter.
You would think this is pretty straightforward, right? Someone tweets violence, it gets reported, and the abuser gets punished.
Wrong.
Banned
Twitter ends up banning Lucien's account. (Update here.)
Here's what he wrote on his Facebook page on Thursday:
Twitter has permanently suspended my account 24 hours after I asked followers to report a tweet which encouraged people to burn down our headquarters in Salem, MA (a tweet that former child star Corey Feldman endorsed by way of retweet and in comments following the tweet). We all received replies saying the threat of arson did not violate Twitter "Community Standards," then my own account was suspended. Perhaps the appeal to have others report the Tweet was considered "targeted harassment" while the threat of arson was deemed acceptable? In any case, I still have access to all of my Tweets, and while none of mine seem to clearly violate their Standards, the account that called for an attack upon us remains.
Newsweek reports Twitter banned Lucien due to "targeted abuse."
The most targeting Lucien has done was tweeting Cory Feldman asking him if he retweeted Laurie!'s tweet.
TST is seeking legal actions against Twitter.
The Attack
You may be saying, Andy, that's old news from last week. We want something dysfunctional right from the oven.
There was an attack at the TST temple in Salem yesterday.
Here's what Lucien stated on his Facebook page:
Today a man came to our headquarters in Salem smashing one of our outlet covers and apparently looking for a way inside. When we confronted him, he threatened us with what appeared to be a sharpened screwdriver. He is now in custody.

Of course, this comes only a day after news outlets reported upon my Twitter ban, noting that my ban is result of my outcry against Twitter's refusal to take action upon direct threats to the Salem TST headquarters property. I have no way, right now, of knowing what directly inspired this man's actions today, but I do know that when threats of violence against us seem to have the sanction of social media mega-giants, delusional would-be heroes against an imaginary Satanic Cult Conspiracy are likely to feel emboldened. When the public is aware that threats of violence against The Satanic Temple are not considered "real" threats, merely because of who we are, should we be surprised if some people come to believe that actual violence against us is perfectly acceptable?
It looks like no one was hurt. However, it looks like no one was hurt due to security measures already in place at the headquarters.
The TST staff in Salem, MA aren't in my thoughts and prayers.
What I am doing to going on Twitter and joining in on the chorus asking why Twitter isn't doing the right thing.
If you want to help out The Satanic Temple you can contribute to one of their ongoing campaigns!
***Here is a quick update about Lucien's Twitter drama!
---
I have a Patreon account just in case you wish to show your appreciation for my work here on Laughing in Disbelief.
---
Andrew Hall is the author of Laughing in Disbelief. Besides writing a blog, co-hosting the Naked Diner, he wrote two books, Vampires, Lovers, and Other Strangers and God's Diary: January 2017
.
Andrew is reading through the Bible and making videos about his journey on YouTube. He is a talented stand-up comedian. You can find him on Twitter, Instagram, and Facebook.
---
Stay in touch! Like Laughing in Disbelief on Facebook: