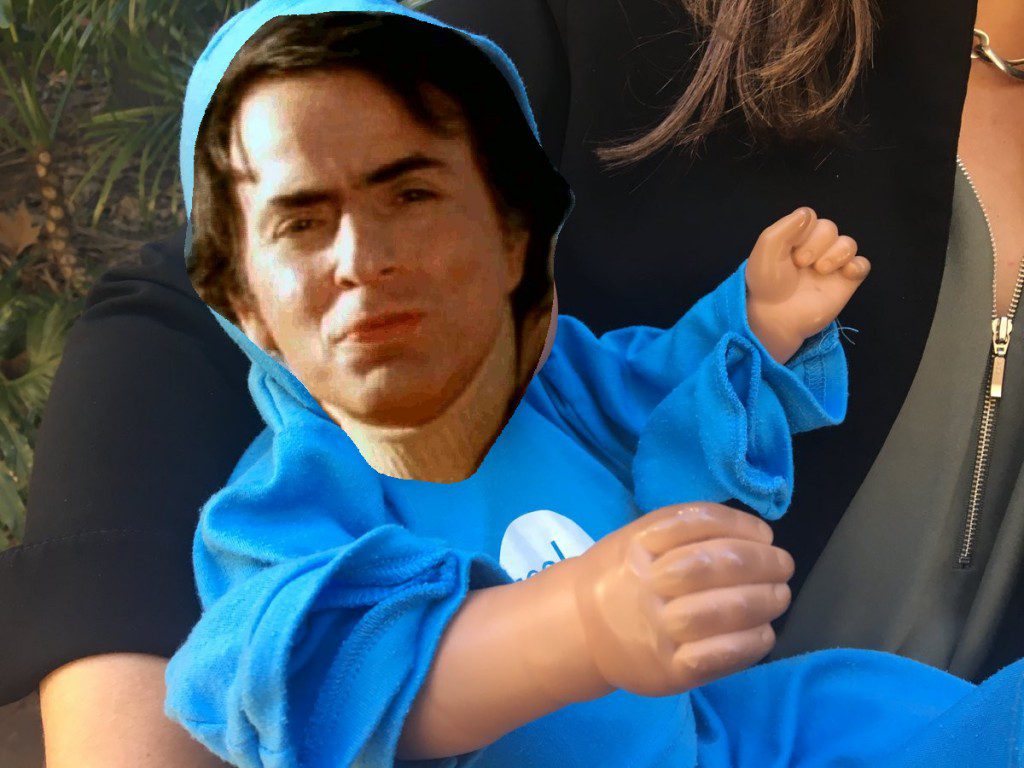 A study published in the medical journal Canard reports teenagers aged 13-15 who were entrusted with a Skeptical Carl Sagan Baby Doll® for a 48 hour period scored lower on cognitive tasks measuring critical thinking skills.
The researchers loaned 1,689 dolls to male and female students from Little Rock, Arkansas. Each student was responsible for "Little Carl Sagan's" care over a weekend. Just before receiving a doll every participant took a test measuring his or her's critical thinking skills. Participants had to feed, diaper, and tend to all the needs that the robotic baby Carl Sagan demanded. Whenever the doll was given attention by mommy or daddy, the baby would utter a quote from the late cosmologist.
Some of the programmed statements included but were not limited to:
 Science is a way of thinking much more than it is a body of knowledge.
Absence of evidence is not evidence of absence.
The brain is like a muscle. When it is in use we feel very good. Understanding is joyous.
Subjects were told that the study's intended purpose was to measure how well the students were able to adapt to the needs of a newborn infant. Legal guardians were informed of the true purpose of the experiment. Many of the guardians were optimistic on the possibility of making the students better thinkers.
My boy has been watching Alex Jones' Info Wars on YouTube. That scares me. I'm hoping the Skeptical Carl Sagan Baby doll can unmuddle his head.  – "Dave,"  a 38 year-old father

I don't know what Snapchat is, but Sarah is on it all the time. Maybe this experiment will get her off her phone and into church.  – "Sarah," a confused but well intentioned 35 year-old mom
After the 48 hours were up, subjects brought back their robotic dolls and then completed the second round of simple cognitive tests.
The researchers were hoping that the teenagers would psychologically internalize Skeptical Carl Sagan Dolls words of wisdom. After all, the subjects were constantly engaging with the Little Carls over the time period. However, the only change observed was a decrease of cognitive functioning probably due to the lack of sleep.
At the end of the 48 hours, there was a greater tendency for subjects to want to go to church.
Scientists suspect that impaired brain function due from the stress created by watching the robotic infant is to blame.
---
I have a Patreon account just in case you wish to show your appreciation for my work here on Laughing in Disbelief.
---
Andrew Hall is the author of Laughing in Disbelief. Besides writing a blog, co-hosting the Naked Diner, he wrote two books, Vampires, Lovers, and Other Strangers and God's Diary: January 2017
.
Andrew is reading through the Bible and making videos about his journey on YouTube. He is a talented stand-up comedian. You can find him on Twitter, Instagram, and Facebook.
---
Stay in touch! Like Laughing in Disbelief on Facebook: