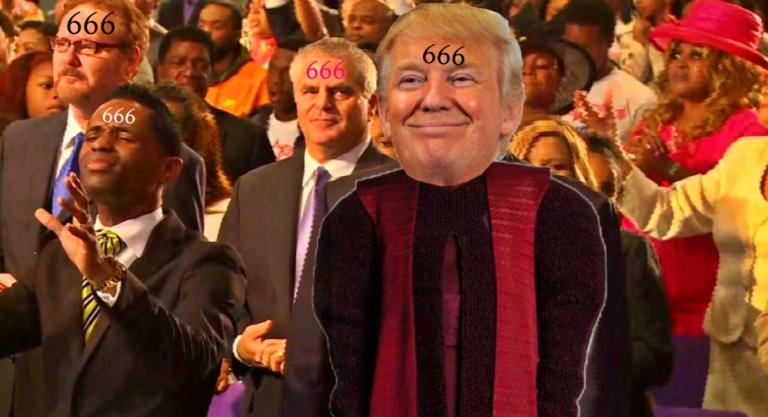 President Trump spoke recently at the National Prayer Breakfast dressed in the traditional robes of a Dark Lord of the Sith. He and his fans were happy to show off their new 666 tattoos.
President Trump addressed the gathering with a message of faith:
America is a nation of believers, and together we are strengthened by the power of prayer. This morning, our hearts are full of gratitude as we come together for the 66th annual National Prayer Breakfast.
His speech was momentarily interrupted by a protester who claimed they were a follower of someone named Jesus of Nazareth. This Jesus supposedly taught that being kind and modest were virtues and the downtrodden would inherit the Kingdom of God.
"LOSER! POWER! UNLIMITED BIGLY POWER!" President Trump yelled as he called forth Dark Force Lightning. He then sizzled the interloper with what many present called a majestic display of power.

"I like that he speaks what's on his mind. President Trump is not your average politician. He sure is upsetting the libtard apple cart," an anonymous Christian noted.
After the light show, President Trump returned to his message. He continued to alienate atheists and agnostics by insisting America was built on the blood, sweat, and tears of believers.
He received applause from the audience several times during his talk. Members of the press noted the audience seemed very happy with their Faustian bargain. However, not everyone was pleased. One of the waitstaff wryly noted "So with thunderous applause liberty dies."
After the National Prayer Breakfast members of the non-FOX News press asked members of the audience what they thought of President Trump sporting the 666 tattoo on his forehead and wearing the traditional robes of a Dark Lord of the Sith. Some didn't like the robes saying it was a bit "ethnic." Everyone agreed it was better than having a black guy as President.
---
I have a Patreon account just in case you wish to show your appreciation for my work here on Laughing in Disbelief.
---
Andrew Hall is the author of Laughing in Disbelief. Besides writing a blog, co-hosting the Naked Diner, he wrote two books, Vampires, Lovers, and Other Strangers and God's Diary: January 2017
.
Andrew is reading through the Bible and making videos about his journey on YouTube. He is a talented stand-up comedian. You can find him on Twitter, Instagram, and Facebook.
---
Stay in touch! Like Laughing in Disbelief on Facebook: