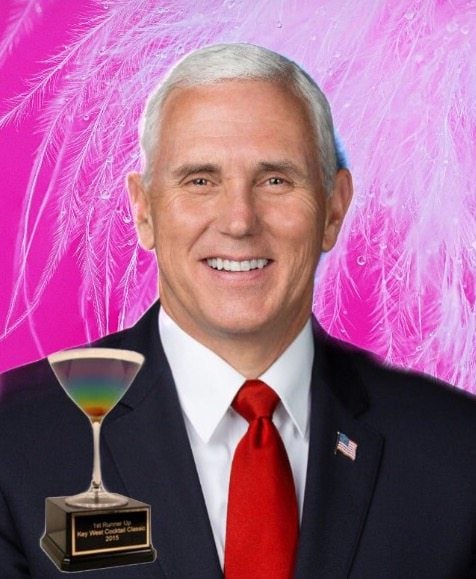 Vice President Mike Pence has many titles he can be proud of: 50th Governor of Indiana, United States Representative, and, of course, Vice President of the United States. Today he won another. Gaydar Magazine awarded Vice President Mike Pence the Lifetime in the Closet Award.
Gaydar Magazine gives a yearly trophy to the Republican politician who is firmly in the closet and publicly against LGBTQ rights. However, this is the first time the periodical is awarding a trophy for a lifetime of sexual repression.
CEO of Gaydar Magazine Andrew Canard explains:
Our awards committee took a long hard look at all the potentials. And then we said to each other 'What the heck, let's give it to Queen Pence. His record of restricting gay rights is hardwood solid. He's Vice President. He knows how to dress himself. And he loves his mother/wife.'
Not only does Vice President Pence win the trophy, but he wins a complimentary copy of Fire and Fury: Inside the Trump White House
 and a daily dildo. Gaydar executives decided to not to supply lubricant since Mike seems to be the guy who assumes spit is just as good as lube (it isn't!).
Vice President Pence has not yet responded to this august honor. No one believes he will accept the trophy or the dildos. Executives at Gaydar Magazine are unfazed.  Andrew Canard quipped, "We hold out hope that gay Jesus will make him see the light someday."
---

---
I have a Patreon account just in case you wish to show your appreciation for my work here on Laughing in Disbelief.
---
Andrew Hall is the author of Laughing in Disbelief. Besides writing a blog, co-hosting the Naked Diner, he wrote two books, Vampires, Lovers, and Other Strangers and God's Diary: January 2017
.
Andrew is reading through the Bible and making videos about his journey on YouTube. He is a talented stand-up comedian. You can find him on Twitter, Instagram, and Facebook.
---
Stay in touch! Like Laughing in Disbelief on Facebook: