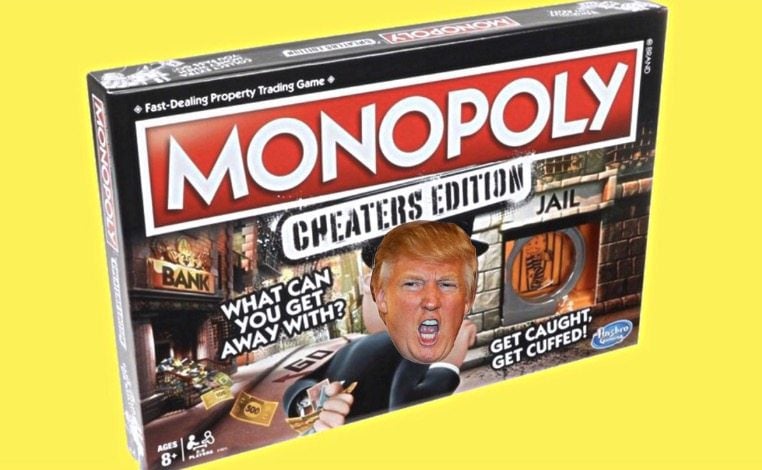 The Trump presidency is a tornado of scandals. In fact, before winning the august office, Donald J. Trump was a powerful electromagnet for trouble. Considering his long history of racism, shady business deals, relations with prostitutes, and dealings with the Russians, Hasbro is producing a special Monopoly: Donald Trump Cheaters Edition.
Andrew Canard is CEO of Hasbro and is credited with coming up with the idea for Monopoly: Donald Trump Cheaters Edition. He explains the rationale behind the audacious spin on a classic pastime:
Monopoly is a game where you get to financially crush your rivals. A good portion of the American public loves cheaters. It isn't just Donald Trump they like either. I've seen polling numbers in Boston that say 98% of the population love The New England Patriots. Cheating is American. Why not make a game that expresses that love?"
Players will still roll dice and journey around the board attempting to gain property and build houses and hotels. However, there are significant changes to the game:
You have cancer and are now poor chance card Players unfortunate enough to pick up this card have to pay 75% of their assets (cash, property, and buildings on said property) to the bank.
You are black. Go directly to jail community chest card Not only does the player go to jail but once they are out they will only be able to earn 50% of what they should be making. No one wants to hire a convict.
Vladimir Putin chases you around the board Vladimir Putin is ever present on the Monopoly board. Each turn players roll special corrupt dice and moves him. If Vlad catches you, then you will have to do whatever demands you pick out of the special Vlad's Big Bag of Commands. Don't follow the demand, and he'll release that tape he has of Russian sex workers urinating on you.
Mr. Canard thinks the Monopoly: Donald Trump Cheaters Edition will be a huge seller. The game is going to be released just before the midterm elections when cheating frenzy is at its highest.
*This Poe is based on the very real news story New 'Cheaters Edition' of Monopoly rewards players for dishonesty. Not only does the article get into the cheaters edition, but it delves into the strange history of the game. I never knew Monopoly is based on a leftist game that was designed to satirize capitalism.
At the beginning of the 20th century, when board games were becoming increasingly popular, a left-wing feminist and teacher named Lizzie Magie spent years infusing her political observations and ideology into a board game she called the Landlord's Game.

"It is a practical demonstration of the present system of land-grabbing with all its usual outcomes and consequences," she wrote in a political magazine. "It might well have been called the 'Game of Life', as it contains all the elements of success and failure in the real world, and the object is the same as the human race in general seem[s] to have, i.e., the accumulation of wealth."
She sold the rights to the game and instead of making fun of capitalism it morphed into what it is today.
---
I have a Patreon account just in case you wish to show your appreciation for my work here on Laughing in Disbelief.
---
Andrew Hall is the author of Laughing in Disbelief. Besides writing a blog, co-hosting the Naked Diner, he wrote two books, Vampires, Lovers, and Other Strangers and God's Diary: January 2017
.
Andrew is reading through the Bible and making videos about his journey on YouTube. He is a talented stand-up comedian. You can find him on Twitter, Instagram, and Facebook.
---
Stay in touch! Like Laughing in Disbelief on Facebook: