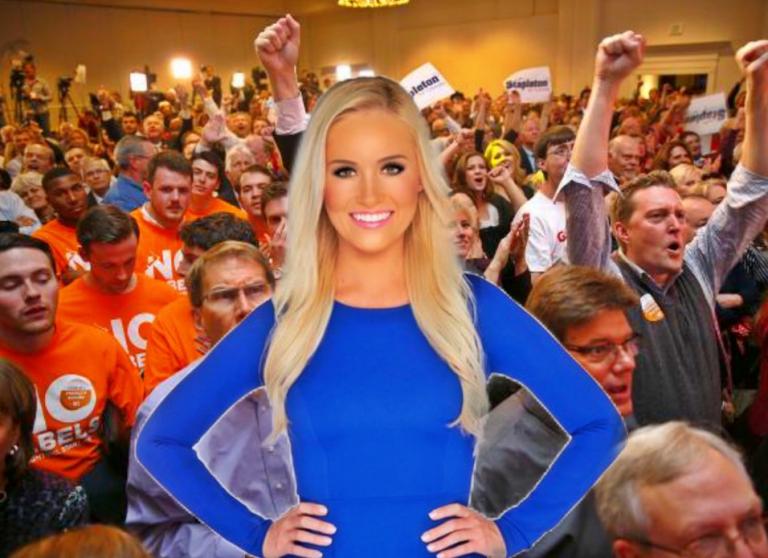 A new study shows what many scientists, Democrats, and rational people have known for years — Republican men can't see many women. Not only are these women invisible, but they can not be heard either.
GOP Men And Their Attitudes Towards Women was published in the Journal of American Political Studies. The researchers tested 5,341 men who are actively engaged in the Republican Party. Some of the subjects were involved in local politics, others on the national level. Ages ranged from 18-78.
Professor Andrew Canard of the Theological Institute of Technology (TIT) is the lead author of the paper. Even he was stunned by the data:
We all suspected women need to be physically attractive for GOP males to take any notice. What we found out is that women who are ranked under a 6 in terms of attractiveness (by Republican standards) are undetectable except in certain situations.
The subjects were placed into a control group and an experimental group. Several experiments commenced.
You Can't Even Hear Me?
It's well known that FOX News is very popular with Republican males. Up until now, it was assumed it was because the so-called news channel panders to the prejudices and low educational levels of its viewers.
It turns out GOP men can't watch many shows on CNN because they can't see or hear the female hosts or guests.
Professor Canard explains:
Our experimental group observed 20 minutes of CNN programming. It was a series of clips from several shows. The subject matter consisted of recent events and analysis. If the woman in the clip had that mean cheerleader look of female FOX News personalities,  then the participants were alert and engaged. If she didn't meet the rigid beauty guidelines of 1950s America, then the men took naps or grew agitated saying things like, "There's nothing to watch on TV anymore."
Afterwards, the Republicans were asked about what they saw. Very few of them remembered any woman who looked plump. The exceptions were guys who are into big beautiful women (BBWs).
The control group looked at a picture of 25-year-old FOX News commentator Tomi Lahren for 20 minutes. It was just a picture of the news professional. There was no sound. Afterwards, every single participant stated they learned a lot about crooked Hillary, how the Russians are our friends, and how the blacks want nothing but lengthy prison sentences.
"When I first looked at the data, I couldn't sleep for days," remarked Professor Canard.
Exceptions
Women who are invisible and can't be heard by Republican men can take action with limited success. If a woman demands she is to be acknowledged by GOP males, then she will be heard.
Unfortunately nothing she is saying will be understood.
"Do you wonder why Republican guys always think a strong woman is shrill?" asked Professor Canard. "It's because the men in these situations only hear their mothers scolding them for masturbating."
Hope
Researchers agree
the way to solve this societal riddle is to vote Republicans out of office in the 2018 midterms. Democrats should also
send secular missionaries into rural areas in Republican states
to act as a counterweight against churches that peddle Bronze Age myths as fact.
---
I have a Patreon account just in case you wish to show your appreciation for my work here on Laughing in Disbelief.
---
Andrew Hall is the author of Laughing in Disbelief. Besides writing a blog, co-hosting the Naked Diner, he wrote two books, Vampires, Lovers, and Other Strangers and God's Diary: January 2017
.
Andrew is reading through the Bible and making videos about his journey on YouTube. He is a talented stand-up comedian. You can find him on Twitter, Instagram, and Facebook.
---
Stay in touch! Like Laughing in Disbelief on Facebook: