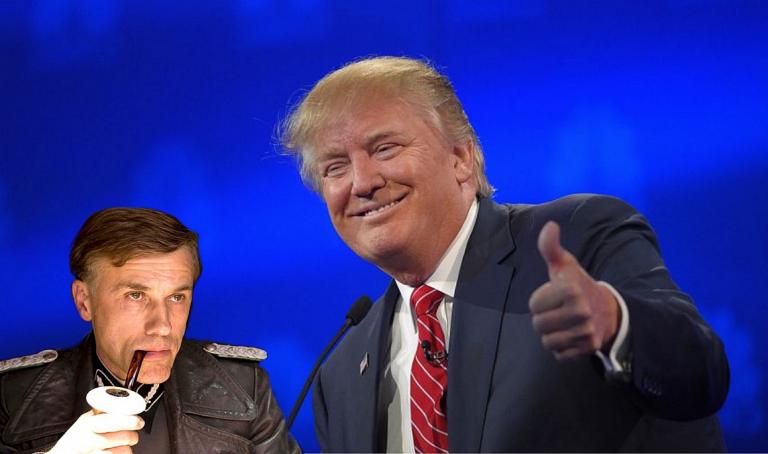 President Trump announced today retired intelligence officer Colonel Hans Landa will be the campaign manager for the 2020 presidential campaign.
Colonel Landa has a long history of loyal service to Donald Trump and to the ideals that are making America great again. His military records reveal a history of ferreting out the enemies of the homeland. "He's someone who will get the job done with a smile on his face and a glass of wholesome milk in hand," reported one senior intelligence officer.
Colonel Landa released a *statement celebrating his new position:
The feature that makes me such an effective hunter of the Mexicans is, as opposed to most Trump supporters, I can think like a Mexican, where they can only think like a loyal fanboy of Trump. Now, if one were to determine what attribute the American people share with a beast, it would be the cunning and the predatory instinct of a hawk. But if one were to determine what attributes the Mexicans share with a beast, it would be that of the rat. President Trump's and Goebbels's propaganda have said pretty much the same thing, but where our conclusions differ is I don't consider the comparison an insult. Consider, for a moment, the world a rat lives in. It's a hostile world.
Senior White House officials report President Trump is in high spirits and is looking forward to turning his reality show up to 11 in 2020. Many experts expect President Trump to win 2020, and with Hans Landa leading the campaign its almost a sure-fire bet,
Critics of Colonel Landa point out that special prosecutor Robert Mueller is currently investigating the Colonel's role in the 2016 campaign as well as possible war crimes committed in Europe during the World War 2. Supporters scoff at the thought Landa may face jail time for campaign meddling or crimes against humanity. "He's a winner," stated longtime friend Andrew Canard. "The President will simply pardon him for any crime he's charged with."
*You may recognize this quote from the movie Inglorious Basterds. I only had to change it a little bit.
This Poe was inspired by the Politico story 
Trump picks Parscale to run 2020 campaign. 
---
I have a Patreon account just in case you wish to show your appreciation for my work here on Laughing in Disbelief. 
---
Andrew Hall is the author of Laughing in Disbelief. Besides writing a blog, co-hosting the Naked Diner, he wrote two books, Vampires, Lovers, and Other Strangers and God's Diary: January 2017
.
Andrew is reading through the Bible and making videos about his journey on YouTube. He is a talented stand-up comedian. You can find him on Twitter, Instagram, and Facebook.
---
Stay in touch! Like Laughing in Disbelief on Facebook: