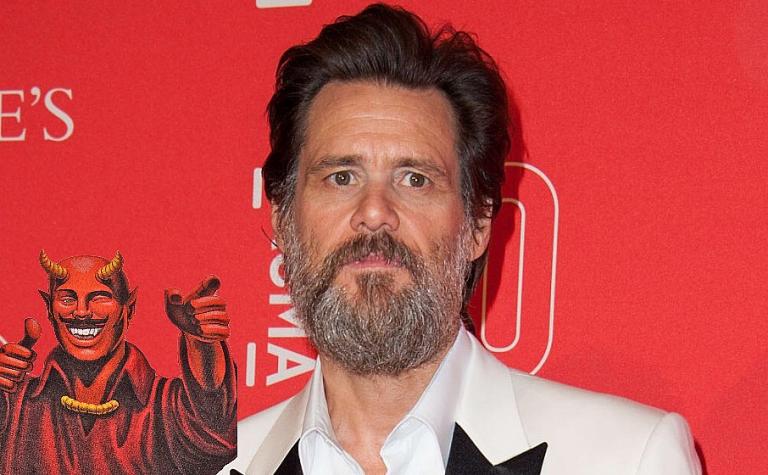 Republicans around the country are asserting comedian Jim Carrey is a Satanist and stealing souls through his paintings. The star of such comedic hit movies like Liar Liar, Man on the Moon, and The Mask recently released a painting depicting Press Secretary Sarah Huckabee Sanders in an unflattering light.  The caption is "This is the portrait of a so-called Christian whose only purpose in life is to lie for the wicked. Monstrous!"
Is Satan Winning?
House Republican from Montana and award-winning Christian Andrew Canard is telling the world, "Satan is winning. He's a hoarder. He collects souls."
Representative Canard took one look at the painting of Press Secretary Sanders and knew her soul was in jeopardy. "Satan loves broad brush strokes and crooked teeth. That piece of so-called art has both."
He immediately called the White House to see if Sanders was a walking zombie without her immortal soul. Staffers informed the politician she was fine and seemed to be in good health. In fact, her recent physical stated she was spewing out alternative truths at a Herculean pace.
The news did not reassure Representative Canard. He knew Satan trapped her soul in that painting. And only Jesus and the NRA could get it out.
Jim Carrey's Satanic Painting vs The NRA
The National Rifle Association (NRA) is on high alert and ready to fight Lucifer's artistic legions. "Do you know what cured the infection of witches in Salem, MA? Deeply held beliefs, spectral evidence, and AR-15s," relayed NRA spokesperson and Jesus follower Jubal Early.
Evangelical militias are currently in Phase I of mobilization. Phase I includes getting their weapons out of the hands of their toddlers and making sure high capacity magazines are free from marijuana.
Phase II includes sending out heavily armed Christian night riders to emancipate every single image of Jim Carrey's depiction of Press Secretary Sanders. This may very well mean getting the original from Jim Carrey as well as every jpeg, GIF, and png file.
Donald Trump And Putin Are Satan's Hostages
Jim Carrey is fighting back by stealing the souls of the two greatest Christian heroes of today, President Donald Trump and Russian President Vladimir Putin. The Satanic Carrey released a painting depicting President Trump as the Wicked Witch and Putin as flying monkeys.
"I'm suggesting to President Trump we go nuclear. If we flatten LA, maybe the originals will be destroyed and his soul returned to him," said Representative Canard.
The Satanic Mosque (TSM) Defends Satan And Common Sense
Co-founder of The Satanic Mosque Lucifer Lucky issued a press release stating obvious truths like
Satan isnt' real so he can't steal your non-existent souls 
and
Republicans need pills. For their brains
.
Mr. Lucky also suggests FOX News should take a nice week long vacation in the Bahamas and never come back.
---
I have a Patreon account just in case you wish to show your appreciation for my work here on Laughing in Disbelief.
---
Andrew Hall is the author of Laughing in Disbelief. Besides writing a blog, co-hosting the Naked Diner, he wrote two books, Vampires, Lovers, and Other Strangers and God's Diary: January 2017
.
Andrew is reading through the Bible and making videos about his journey on YouTube. He is a talented stand-up comedian. You can find him on Twitter, Instagram, and Facebook.
---
Stay in touch! Like Laughing in Disbelief on Facebook: