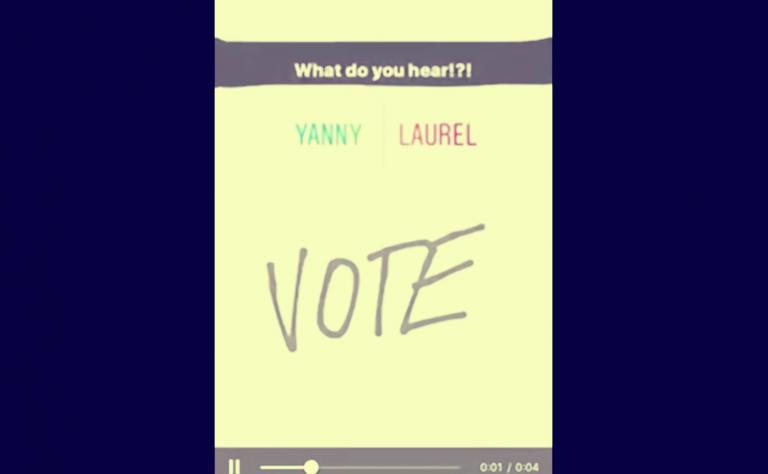 Proud Baptist Richard "Fighting Dick" Henderson spent most of last night staring at his computer screen wondering if Yanny sounds less gay than Laurel.
Coworkers asked him which word he heard when listening to the four second recording that went viral. Afraid of being considered a 'soy boy' by his buddies, Mr. Fighting Dick feigned ignorance.
However, he was anything but ignorant.
He was one of the first people to listen to the clip on Reddit. Truth be told he heard Yanny loud and clear. It was vexing because so many other people heard the word Laurel. Could a benign God allow such an ambiguous message designed to confuse humanity? Of course not. At that point he knew he had to pray on the matter. After all,  he wanted to make sure he wasn't being tricked by Lucifer into hearing Yanny when God's intent was Laurel.
Praying did not ease his mind. Doing a bit more research revealed those people who heard Yanny perceived the higher frequencies of the clip while #TeamLaurel perceived the lower ones. That was all fine and good, but which word should he be hearing?
A quick look on Twitter didn't help. It seemed there was a vocal contingent on #TeamYanny who thought everyone on #TeamLaurel was gay and vice-versa. The root of the problem, of course, is that both words didn't seem like they belonged in Donald Trump's America. It seemed  Yanny and Laurel resided in a cute colonial adorned with award-winning flower boxes somewhere in Provincetown, MA. How could a straight guy decide which word represents toxic male heterosexuality?
Fighting Dick decided to rely on his fall back position. Whenever anything made him feel tingly in his Devil's region, he'd call it stupid. Today if the Yanny/Laurel issue flares up at work he's going say, "That's stupid," and go back to surfing bareback gay porn in his cubicle.
---
I have a Patreon account just in case you wish to show your appreciation for my work here on Laughing in Disbelief.
---
Andrew Hall is the author of Laughing in Disbelief. Besides writing a blog, co-hosting the Naked Diner, he penned a chapter in  Not Seeing God: Atheism in the 21st Century
  He wrote two books, Vampires, Lovers, and Other Strangers and God's Diary: January 2017
.
 Andrew is reading through the Bible and making videos about his journey on YouTube. He is a talented stand-up comedian. You can find him on Twitter, Instagram, and Facebook.
---
Stay in touch! Like Laughing in Disbelief on Facebook: