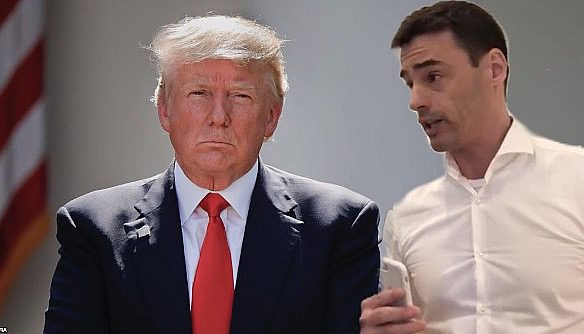 Washington DC – President Trump today nominated embattled New York lawyer Aaron Schlossberg to be in charge of the Department of Cultural Diversity (DCD).
Controversy erupted recently when Mr. Schlossberg entered a restaurant and ranted about how the employees should stop speaking Spanish. He then threatened to call Immigration and Customs Enforcement (ICE) on the staff. Upon hearing about the incident, President Trump is rumored to have said, "He's our boy."
The DCD was created back in the days of the Obama presidency. Anonymous White House sources report President Trump was going to kill the organization. However, once he saw the viral video of Mr. Schlossberg's rant, he saw an opportunity to troll Democrats, minorities, and common decency.
Scott Canard Adams is considered by many to be an expert on all things Trump. While many see this Trump maneuver as just a crazy stunt, he sees it differently:
This is a typical Jedi mind trick President Trump loves playing with Democrats. He revs up his political base by infuriating the left. The most significant effect is how Independent voters get riled up. Emotion is a weird thing. Independents will forget about why they got emotional about Trump, but the memory of being emotionally activated will remain. In 2020 they will interpret that feeling as love for President Trump. This is Psychology 101. It's the psychology of why people love bullies.
Mr. Schlossberg will be taking control of the Department of Cultural Diversity within days. He plans to make big changes in the organization. Here's a to-do list he posted on Facebook:
The next census form will be different. Instead of identifying as Hispanic, those people will check the box MS-13 Animals.
Rabbis around the country will now report to the government who in their synagogues are real Jews and fake Jews.
Taco Bell's Wild Naked Chicken Chalupa Combo Meal is off the menu and getting deported.
Everyone in the White House is looking forward to the newest addition to team Trump. "Things were getting boring around here," admits one staffer. "I can't wait to bring Aaron to the local Ethiopian restaurant."
---
I have a Patreon account just in case you wish to show your appreciation for my work here on Laughing in Disbelief.
---
Andrew Hall is the author of Laughing in Disbelief. Besides writing a blog, co-hosting the Naked Diner, he penned a chapter in  Not Seeing God: Atheism in the 21st Century
  He wrote two books, Vampires, Lovers, and Other Strangers and God's Diary: January 2017
.
 Andrew is reading through the Bible and making videos about his journey on YouTube. He is a talented stand-up comedian. You can find him on Twitter, Instagram, and Facebook.
---
Stay in touch! Like Laughing in Disbelief on Facebook: