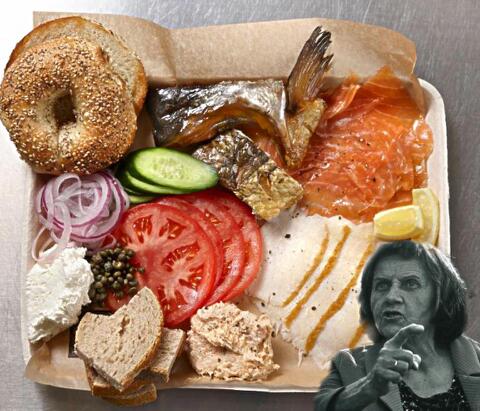 Washington DC – The Supreme Court ruled  5-4 today in favor of a Jewish deli's right not to serve a Christian due to religious convictions.
The incident initially occurred at Laitman's Deli in Brookline, Massachusetts.
Mrs. Kelly placed her regular order at the counter. While waiting, she decided to be spontaneous and ordered a pound of lox. Mort Jr. was manning the slicer. He remarked how much Mrs. Kelly and her husband were going to love the thinly sliced delicacy.

It was at that point everything went wrong.

"I'm using it for a fish fry. Cut it thick," she declared.
The family managing Laitman's refused to fill the order. Mort Laitman had this to say at the time:
You slice lox thin. You serve the lox with a bit of cream cheese on a nice bagel. What you don't do is double bread it and fry it up like some gentile cod. It's against my Jewish identity and Judaism itself!
Mrs. Kelly vowed to get her lox from Laitman's and hired a team of lawyers for the ensuing court battle. Friends pointed out she could get her lox from any other deli in the predominantly Jewish neighborhood. She refused saying, "I'm getting my lox from Laitman's! Catholic Jesus demands it!"
Justice Anthony Kennedy wrote the court's majority opinion. He cited Laitman's had every single right to refuse service to anyone based on any of the 613 mitzvot (commandments) found in the Old Testament. "If Mr. Laitman saw a customer beating his sex slave in a way that went against the laws of his forefathers, well, then that customer isn't going to get his latkes."
Mrs. Kelly and her legal team were dumbfounded by the verdict. "What's the used of living in a Christian nation if Mrs. Kelly can't deep fry lox?" one of her lawyers from Dewey, Cheatem & Howe cried out.
Republican lawmakers who are up for re-election are petitioning President Trump to use his powers to veto the Supreme Court's decision. It's hoped President Trump will follow in the footsteps of Andrew Jackson and ignore the Supreme Court. The White House hasn't officially responded. However, there are rumors of  federal agents in nearby Boston being mobilized and heading to Brookline for some sort of fish-related mission.
Only time will tell the true outcome of this religiously fishy story.
---
Andrew Hall is the author of Laughing in Disbelief. Besides writing a blog, co-hosting the Naked Diner, he penned a chapter in  Not Seeing God: Atheism in the 21st Century
  He wrote two books, Vampires, Lovers, and Other Strangers and God's Diary: January 2017
.
 Andrew is reading through the Bible and making videos about his journey on YouTube. He is a talented stand-up comedian. You can find him on Twitter, Instagram, and Facebook.