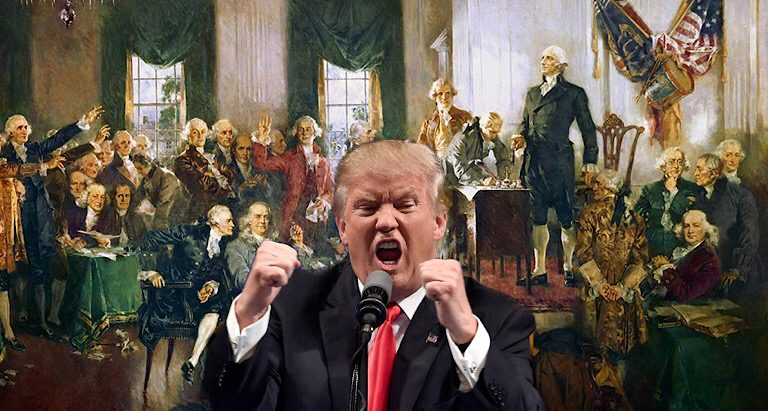 The White House is signaling President Trump will revoke yet another relic from the Obama-era — the United States Constitution.
President Trump is saying the document is well over 200 years old and at that age "no matter how much lipstick you put on it, the thing is a pig."
The commander-in-chief went on Twitter. He launched into a tweet-rage about the signers of the US Constitution:
George Washington lost more battles than he won. Loser!
James Madison 'The Father of the Constitution' created a rigged system that makes witch hunts.
Benjamin Franklin should've been fired as President of the United States for being weak and bald.
The Trump administration is planning to do away with the Legislative and Judicial branches of the federal government. Trump's political base is ecstatic since the Republicans were going to lose the House in the midterm elections. The Senate is seen as a real barrier to populism. "Why can't I have cock fights in my living room? The Senate!" stated one anonymous MAGAn.
President Trump does acknowledge the Supreme Court is going to have to exist. The President can't spend all of his days telling minorities to go screw themselves in court. SCOTUS will move into the White House where Vice President Mike Pence can keep an eye on them.
Everyone at FOX News and Friends is heralding the bold move and calling it "financially responsible." By consolidating the federal government, the top 1% will get even more government handouts tax cuts. And what's good for the 1% has to be good for 70-year-olds who have to mop up children's vomit at Chuck E Cheese.
The President does plan to keep a few elements of the US Constitution. It's reported he loves the Three-Fifths Compromise.
---
I have a Patreon account just in case you wish to show your appreciation for my work here on Laughing in Disbelief.