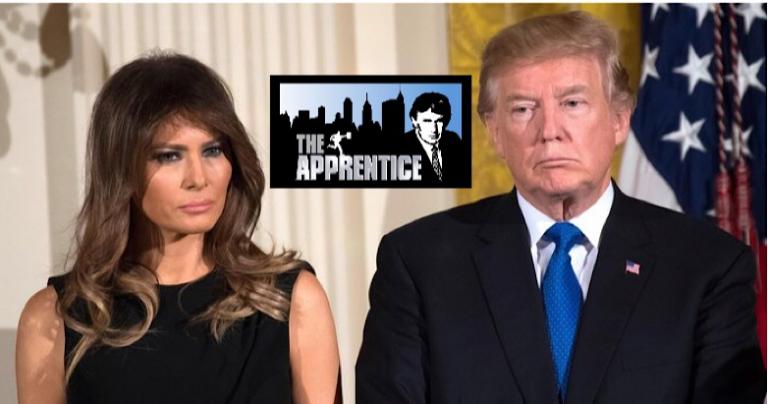 Washington DC – President Trump announced on Saturday that the First Lady of the United States (FLOTUS) Melania Trump has resigned her post and is leaving at the end of October.
Sitting with several pornstars in the Oval Office President Trump said Melania has done "a fantabulous job" and is a "class act." When asked if Melania would be welcome back to the administration at a later date President Trump shrugged his shoulders and chuckled, "I wouldn't put any money on that."
"Melania mentioned several times in our relationship she loved the perks of being Mrs. Donald J. Trump, but the job itself is harsh," he mentioned to reporters.
"Was it the Yeti pubes?" one reporter asked before being dragged off to the Saudi consulate.
Anonymous sources in the White House state Melania hasn't been seen in the White House for days. Her resignation letter was supposedly scribbled on a cocktail napkin. The epistle was short and sweet. "Smell ya later!"
If anyone knows where Melania Trump is they are not talking.
Replacing The First Lady
Press Secretary Sarah Huckabee Sanders told reporters early today President Trump is having auditions to be the next First Lady of the United States. Not only will there be auditions, but the competition is going to be made into a reality TV show. "Think about it as The Apprentice meets The Bachelor meets Survivor. And maybe with a touch of The Walking Dead," she said.
A short list of potential First Ladies is in the making. Casting will be next week. By Thanksgiving the first few episodes will be airing on FOX.
And, yes, there will be a Christmas Special.
"This is a Christmas Special, not a Holiday Special," Sanders stated. "We're a Christian country, and our President demands his reality show where sex workers fight over him is called a Christmas Special."
Evangelicals are ecstatic about the show and plan to support it 110%.
Did you enjoy this post? How about buying the writer a cup of coffee?
---
Andrew Hall is the author of Laughing in Disbelief. Besides writing a blog, co-hosting the Naked Diner, he wrote two books, Vampires, Lovers, and Other Strangers and God's Diary: January 2017
 Andrew is reading through the Bible and making videos about his journey on YouTube. He is a talented stand-up comedian. You can find him on Twitter, Instagram, and Facebook