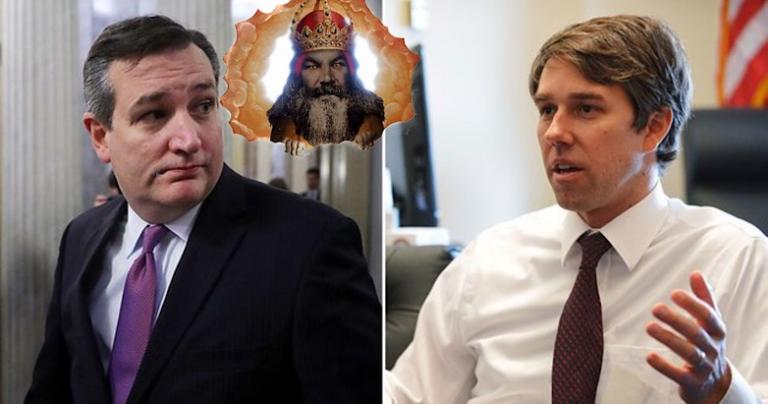 Texas Senator Ted Cruz is vowing to God that if he wins the election against Democratic wunderkind Beto O'Rourke, he will more than likely kill his own daughter. "It's in the Bible. I stand for the flag and kneel for the cross. And that means I'm sacrificing my child to the LORD," Senator Cruz stated.
Child Sacrifice IS In The Bible
Senator Cruz made the vow to the Almighty at the Annual Texas Prayer Breakfast. The function was full of evangelicals who form the backbone of Cruz's supporters. After a healthy meal of eggs, bacon, and drinking in the tears of the poor, Senator Cruz addressed the crowd:
I am here today to rededicate myself to the fight. This is a good fight. It's one I do for God and America. It's a close race. Beto O'Rourke is strong with Satan. In these times God fearing Christians must put their faith in the LORD.

Someone who put their faith in God was Jephthah. He lived in Ancient Israel. To fight the enemies of God he put everything on the line. Please allow me to read something from the Book of Judges.

Then the Spirit of the Lord came on Jephthah. He crossed Gilead and Manasseh, passed through Mizpah of Gilead, and from there he advanced against the Ammonites. 30 And Jephthah made a vow to the Lord: "If you give the Ammonites into my hands, 31 whatever comes out of the door of my house to meet me when I return in triumph from the Ammonites will be the Lord's, and I will sacrifice it as a burnt offering."

That burnt offering was his daughter. I pledge before you and God if I win, I will sacrifice one of my daughters as a burnt offering. It'll probably be the one who asked for a pony every Christmas for five straight years.
Christian Leaders Applaud Senator Cruz's Faith
Reverend Andrew Canard heads the First Baptist Church of Dallas. He sang Cruz's praises after the event. "The man knows his Bible. We need Ted Cruz. Do we really need
both
of his daughters?"
Sources close to the Cruz campaign report a 35% increase in donations. They believe it's due to Ted's tough-but-fair Christian parenting.
Child right activists can't do anything about the situation because Senator Cruz is exercising his religious liberty.
Did you enjoy this post? How about buying the writer a cup of coffee?
---
Andrew Hall is the author of Laughing in Disbelief. Besides writing a blog, co-hosting the Naked Diner, he wrote two books, Vampires, Lovers, and Other Strangers and God's Diary: January 2017
 Andrew is reading through the Bible and making videos about his journey on YouTube. He is a talented stand-up comedian. You can find him on Twitter, Instagram, and Facebook