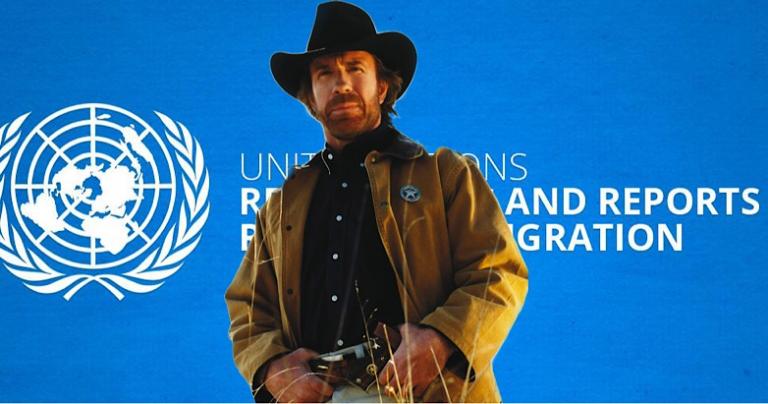 Washington DC – Late last night President Trump announced Chuck Norris, the famed actor, martial artist, and conservative, to be the next United States Ambassador to the United Nations. He is going to be filling the position that Nikki Haley is currently holding. Ambassador Haley recently gave her notice saying, "I've had enough of this. The Kavanaugh thing was the straw that broke this camel's back. Haley, out!"
UN Ambassador Chuck Norris
Chuck Norris is 78-years-old, but the TV legend who starred in such hits as Walker, Texas Ranger states he is ready to take on the high-powered job of protecting America's interests at the United Nations. "The first time the Swiss give me any grief about human rights, they're getting a roundhouse kick," he quipped.
When asked what initiatives he plans to bring to the United Nations, the star of such classic TV infomercials for the Total Gym he chuckled. Mr. Norris went on to say he will be at the UN to serve the needs of President Trump, and that may mean requiring every atheist at the UN to have an American flag tattooed on their forehead.
The Chinese Government has not commented on Chuck Norris' roundhouse kicks or his plan to tattoo their emissaries with American flags.
Midterm *Mishegas
Political pundits are looking at Chuck Norris appointment as a classic Trump move to energize his base by "sticking it to the libtards." The thinking goes the more The New York Times and CNN complain about Chuck Norris and his history of supporting conspiracy theories like President Obama allowing immigrants into the country to bolster the Democratic Party, the more white men will vote. The more white men vote, the more likely America will slide into some sort of evangelical wet dream.
There is a chance Trump's winning strategy will backfire. After all, Napoleon seemed to be doing OK until be overplayed his hand and invaded Russia.
In related news, the Democratic National Committee is hoping for a cold winter.
*Yiddish 101, Mishegas = Crazy
Did you enjoy this post? How about buying the writer a cup of coffee?
---
Andrew Hall is the author of Laughing in Disbelief. Besides writing a blog, co-hosting the Naked Diner, he wrote two books, Vampires, Lovers, and Other Strangers and God's Diary: January 2017
 Andrew is reading through the Bible and making videos about his journey on YouTube. He is a talented stand-up comedian. You can find him on Twitter, Instagram, and Facebook