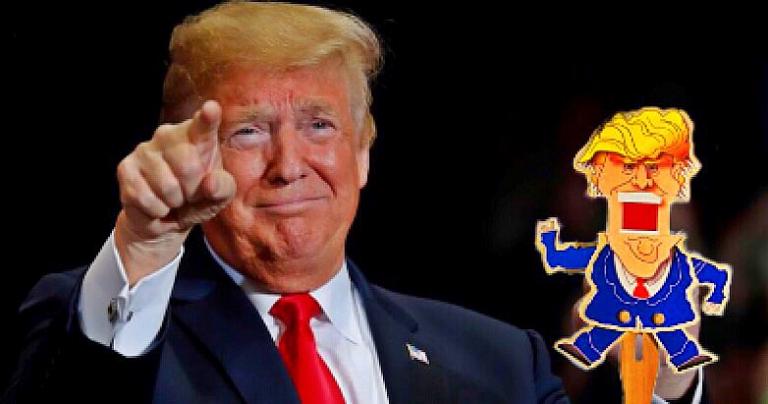 President Donald Trump has fired Special Prosecutor Robert Mueller and has replaced him with a Donald Trump Hand Puppet. The move comes immediately after President Trump forced Jeff Sessions out and made Mathew G. Whitaker the new Attorney General.
President Trump went on Twitter to communicate how much faith he has in Mr. Hand Puppet to get to the bottom of Russian meddling in the 2016 elections. Mr. Hand Puppet also has a Twitter account and tweeted "Thanks, Mr. President. Fake news will never take down the excellentierest president that ever was!"
Democrats are enraged with the appointment of a hand puppet to take the place of Mr. Mueller. However, there is a sense of resignation even among the wave of new Democratic lawmakers destined for the House. "The Donald Trump Hand Puppet is going to be in office before we take our seats. The best we can do is wait until 2024 when we have a real chance of winning the White House," stated newly elected Andrea Canard.
Republicans are telling independent voters to give the Donald Trump Hand Puppet a chance. Many in the GOP are saying it's absurd to judge an official by whose hand is up their butthole. GOP strategists say they know having a puppet as special prosecutor isn't going to lose them any votes in 2020. "Look, Putin and the Koch Brothers alreadyhave their hands up Donald Trump's rectum. And Trump's fans don't care one bit," stated one anonymous analyst.
Department of Justice staff are dealing well with the shakeup. Whenever Special Prosecutor Hand Puppet walks into the room everyone knows to genuflect. However, everyone thought it was a little mean for Mr. Hand Puppet to fire Assistant Attorney General Bob Rosenstein in the cafeteria. "Did he have to do it while Bob was eating tater tots? What kind of monster ruins a man's relationship with tots?"one onlooker reported.
Sources close to Mr. Hand Puppet report he is thinking of running for president in 2020. Las Vegas oddsmakers are saying it's a high probability.
Did you enjoy this post? How about buying the writer a cup of coffee?
---
Andrew Hall is the author of Laughing in Disbelief. Besides writing a blog, co-hosting the Naked Diner, he wrote two books, Vampires, Lovers, and Other Strangers and God's Diary: January 2017
Andrew is reading through the Bible and making videos about his journey on YouTube. He is a talented stand-up comedian. You can find him on Twitter, Instagram, and Facebook