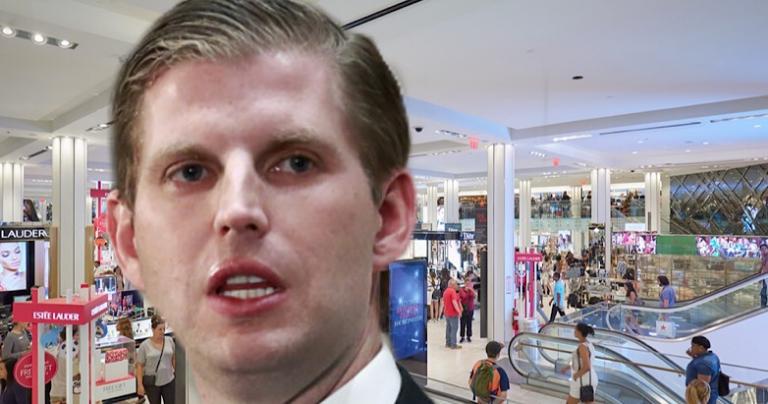 Eric Trump was arrested last night for shoplifting. The 34-year-old son of President Trump was apprehended at a JCPenney in the Washington DC area. Officers on the scene report Eric attempted to steal several packs of men's v-neck undershirts. "He stuffed them underneath the Sean Hannity t-shirt he was wearing," stated police officer Andrew Canard. "It's sad."
White House sources report President Trump cut Eric's allowance recently. Although Eric wasn't directly responsible for Barron Trump running away from home, the elder son did have a part to play in the fiasco:
Trump the Youngest supposedly had no clear plan once he avoided his secret service security detail. On how he was able to give them the slip, he smiled and stated, "I told them Eric was trying to talk and walk at the same time. He was in dire need of someone to help him organize his steps and sentence structure."
When police questioned Eric, it turned out he was stealing the all cotton v-necks for none other than his dad, President Trump. With the ending of his allowance, Eric needed "a creative way" to get Donald "the bestest Christmas present ever."
Mom Melania went down to the JCPenney and worked her magic. She smoothed the whole thing out with Jeffery, the assistant manager. Although the specifics of the deal aren't public knowledge, what we do know is the store won't be pressing charges against Eric.
This still leads Eric in a bind. Christmas is only a few weeks away, and he doesn't have the money to get Dad a gift. Sources state big brother Don Jr. is coming to the rescue. They're heading down to the basement to make Dad Don the best tie rack ever.
---
Did you enjoy this post? How about buying the writer a cup of coffee?
---
Andrew Hall is the author of Laughing in Disbelief. Besides writing a blog, co-hosting the Naked Diner, he wrote two books, Vampires, Lovers, and Other Strangers and God's Diary: January 2017
Andrew is reading through the Bible and making videos about his journey on YouTube. He is a talented stand-up comedian. You can find him on Twitter, Instagram, and Facebook