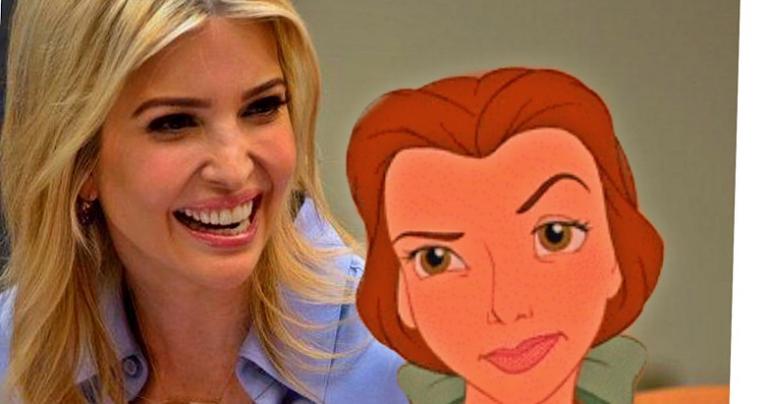 Orlando, Florida – Bowing to pressure from the White House, The Magic Kingdom made Ivanka Trump an official Disney Princess. She is joining an august club that includes Ariel, Belle, Princess Jasmine, and many others. Disney CEO Andrew Canard stated, "President Trump wanted us to make his little girl a Princess, and we did it."
Trump's History With Disney
Anonymous sources close to President Trump whisper he has a long history of trying to make Ivanka a Disney Princess. Before he was president, Trump consistently harassed Mickey Mouse and his associates. "I don't know why you hate my little girl," Mr. Trump shouted at the Mickey Mouse balloon in Macy's Thanksgiving Day Parade, "but someday you and your entire kingdom will kneel before her!"
Those working for Disney were never sure if Mr. Trump believed Mickey Mouse was the CEO of the company or the ruler of The Magic Kingdom or possibly both. Recent memos from years ago state the official policy was to ignore Trump and hope he went away or find another obsession. In retrospect, that policy was fatally flawed.
Sanctions And Threats
Once Trump became commander-in-chief he turned up the heat on one of America's largest companies. "Disney is unAmerican. They spit in the face of common decency. If a Trump sits in the White House, why isn't a Trump sitting on a throne at Disney World?" he tweeted.
When President Trump slapped tariffs on China, he smacked Disney with some, too. The 25% surcharge on all Disney goods sold in America gave the company a black eye and a hit to the pocketbook. Experts noted Disney' reputation suffered amongst evangelicals. Rednecks were no longer willing to pay Disney's exorbitant fees just to enter their theme parks. Movies were boycotted.
"We folded to the pressure, it's simple as that," said CEO Andrew Canard.
Princess Ivanka
Princess Ivanka is not just an honorary title. She is to be full-fledged Disney royalty. An animated movie is in the works. Her dolls are being made in China.
President Trump is ecstatic. Sources report he already has a Princess Ivanka doll and sleeps with it every night.
Did you enjoy this post? How about buying the writer a cup of coffee?
---
Andrew Hall is the author of Laughing in Disbelief. Besides writing a blog, co-hosting the Naked Diner, he wrote two books, Vampires, Lovers, and Other Strangers and God's Diary: January 2017
Andrew is reading through the Bible and making videos about his journey on YouTube. He is a talented stand-up comedian. You can find him on Twitter, Instagram, and Facebook