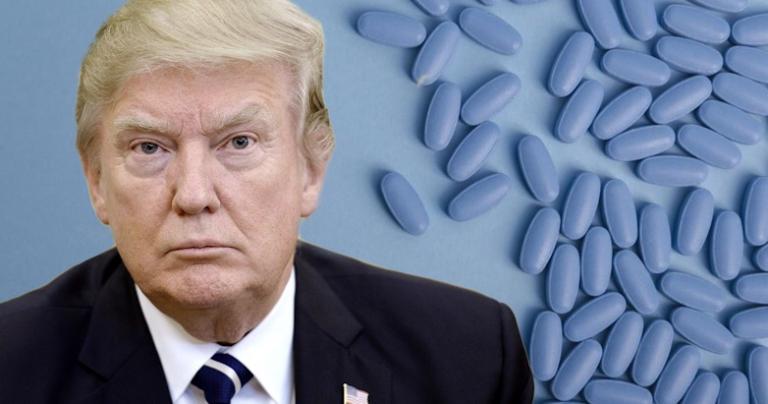 Washington DC – President Trump was rushed to George Washington University Hospital last night due to accidentally overdosing on the male enhancement drug Viagra.
Although the facts of the case are still yet to be confirmed, sources are saying President Trump was watching old footage from the 2016 presidential campaign. The 2018 midterms left the commander-in-chief in a funk. He's found comfort in watching old debates where he's demolishing opponents like "Little Marco" and "Low energy Jeb."
For some strange reason President Trump typically takes a pill of Viagra before taking a walk down memory lane. A close friend state says "He needs to feel like a man. What better way to do than obtaining an erection while watching yourself steal an election?"
Supposedly Trump was reclining in his favorite La Z Boy recliner when the accident occurred. Instead of reaching for the bowl of Skittles, he grabbed a fistful of Viagra. At first, everything seemed fantastic. After watching a few highlights from 2016, he put on FOX News to see how he was going to undermine special prosecutor Robert Mueller.
Four hours later, however, President Trump was ready to call it a day, but Little Don was still ready to party. The pain left him no other option than to call 911 and be rushed to hospital. He is currently undergoing treatment and expected to be released shortly.
Law enforcement is looking into the matter. Some suspect foul play. "Vice President Pence hates Skittles because he thinks they cause homosexuality with all those colors of the rainbow," reports Special Agent Andrew Canard. "He only allows Pineapple Passion in the White House. That Skittle is blue. The President never thought anything of it, and let Pence have his way. In retrospect, it could've been part of an attempt to get rid of Trump and Pence take his place."
Vice President Pence is silent over Trump's medical emergency. However, rumors are surfacing he was seen in the Russian embassy. The Russians are keeping quiet on the matter. If any help for Pence from Mother Russia is coming, then there will probably be a steep price. Pence's people seem satisfied with letting Russia take back Alaska and that may be enough to make Pence king of America.
---
Did you enjoy this post? How about buying the writer a cup of coffee?
---
Andrew Hall is the author of Laughing in Disbelief. Besides writing a blog, co-hosting the Naked Diner, he wrote two books, Vampires, Lovers, and Other Strangers and God's Diary: January 2017
Andrew is reading through the Bible and making videos about his journey on YouTube. He is a talented stand-up comedian. You can find him on Twitter, Instagram, and Facebook