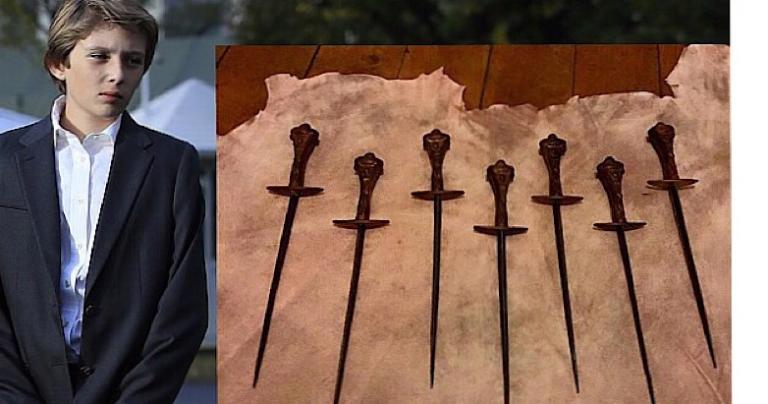 Washington DC – Barron Trump is safe at home. He ran away two weeks ago supposedly due to fearing his father, President Donald J.Trump, is the Antichrist. Once he was home, Barron is reported to have told his mother, Melania Trump, "It was all a joke that went horribly wrong."
Where Was Barron Trump?
Trump the Youngest supposedly had no clear plan once he avoided his secret service security detail. On how he was able to give them the slip, he smiled and stated, "I told them Eric was trying to talk and walk at the same time. He was in dire need of someone to help him organize his steps and sentence structure."
Once he left the White House grounds he crashed at several homes of friends and "high tier acquaintances." Activities included playing Fallout 76 and reading through Karl Marx's classic Das Kapital. An anonymous friend relayed Barron's eyes were open by reading the treatise on materialistic philosophy, economics, and politics.
However, once law enforcement started hard target searches for the youth, Barron knew he had to flee to safety. One of his friends suggested a Catholic Church. Doesn't the Church have a long history of harboring those in need? Barron supposedly slapped the kid in the head. Everyone knew boys weren't safe around Catholic priests.
Barron eventually made his way to the Ecuadorean embassy. He knew they'd take him in.
And they did.
What Made Barron Return Home?
Barron Trump insists his jaunt was just in good fun. It had nothing to do with obtaining the Daggers of Megiddo which are specifically designed to kill the Antichrist. "The Daggers of Megiddo are the stuff of myth," he said. "Let's say I did run away to find the only weapons on Earth that could kill the Antichrist, would I be telling you all about them?"
White House sources report Barron may be very different from his father, but he has inherited the ability to confuse and confound.
Everything seems to be back to normal at the White House. President Trump has doubled the security detail on Barron just to make sure the rambunctious youth doesn't try to run away and have more youthful hijinks.
And to make sure the youngest Trump isn't hiding supernatural cutlery.
Did you enjoy this post? How about buying the writer a cup of coffee?
---
Andrew Hall is the author of Laughing in Disbelief. Besides writing a blog, co-hosting the Naked Diner, he wrote two books, Vampires, Lovers, and Other Strangers and God's Diary: January 2017
Andrew is reading through the Bible and making videos about his journey on YouTube. He is a talented stand-up comedian. You can find him on Twitter, Instagram, and Facebook