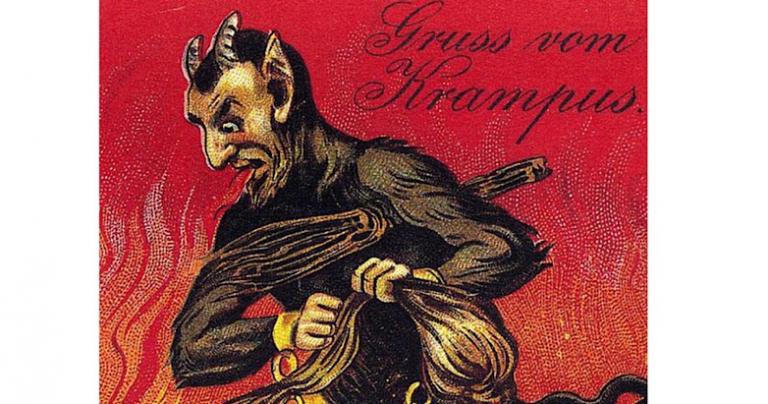 Berlin, Vermont – Little Billy Toaletten is only nine-years-old, but he's a veteran in the traditional Krampus Run. For the last three years, Billy joined other area youths on Krampusnacht, December 5th. As per tradition, they fled through the streets from the anti-Santa, Krampus. If anyone got caught, the youngster ended up in the Krampus Bag where they'd have to wait until the fun is over.
This year was different, however. The city fathers unanimously voted to exchange the mythical half goat-half demon Krampus with the villainous Donald J. Trump.
"Every year it was the same old thing," stated Krampus Run organizer Andrew Canard. "Children happily ran from adults dressed as Krampus. At the end of the night, everyone got a snack bag. Inside the bags are coal made out of chocolate. This year we wanted to spice things up."
The local population overall agreed with the exchanging of Krampus with Trump. Afterall, many greeting cards (Krampuskarten) featuring Krampus in the 19th century depicts the beast chasing after women.
"We were exchanging one lecherous animal for another. No big whoop," offered one anonymous Vermonter.
The White House Reaction
The White House doesn't see it that way. They think it's a whoop. And a big whoop at that.
"We consider replacing Krampus with President Trump an issue of national security," stated White House Chief of Staff John Kelly. "Vermont is attacking the honor of real Americans and undermining President's efforts to neutralize the Bill of Rights."
Republican lawmakers in the House and Senate are declaring gastrointestinal war on The New England state. No longer will there be Vermont Grilled Cheese Day in the cafeteria. Instead, Wisconsin is taking that august title.
It's All About The Kids
Some concerned spectators of the unfolding drama are asking an important question What about the children?
Child Psychologist Andrew P. Varicate explains the issues at hand:
Replacing one mythical threat with a realistic one may not be the wisest choice. A similar experiment was conducted in Massachusetts a few years ago. At that time President Trump wasn't in office so he wasn't the natural choice to replace Krampus. That small town used Catholic priests. They chased the town's children around on December 5th and things got out of hand very quickly.
In a strange twist, children turned the tables this past Krampusnacht. Armed with water pistols and eggs, they launched counterstrikes on the poor souls dressed up as Donald Trump.
Everyone involved thought justice was served.
---
I have a Patreon account just in case you wish to show your appreciation for my work here on Laughing in Disbelief.
---
Andrew Hall is the author of Laughing in Disbelief. Besides writing a blog, co-hosting the Naked Diner, he wrote two books, Vampires, Lovers, and Other Strangers and God's Diary: January 2017
.
Andrew is reading through the Bible and making videos about his journey on YouTube. He is a talented stand-up comedian. You can find him on Twitter, Instagram, and Facebook.
---
Stay in touch! Like Laughing in Disbelief on Facebook: