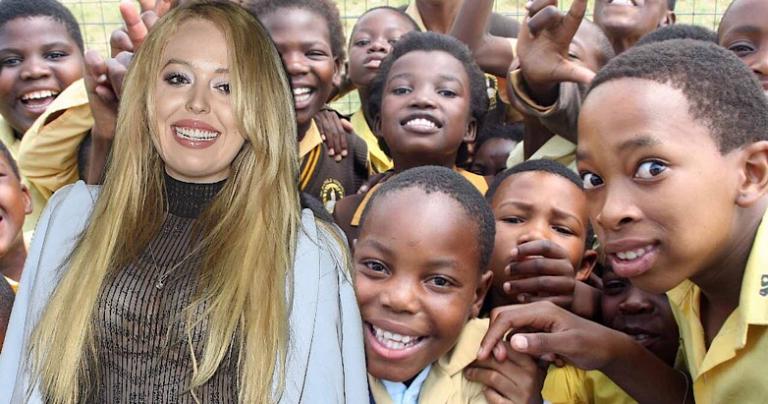 President Trump may think Nigeria is a crappy country, but daughter Tiffany thinks otherwise. The only child of the Don and Marla Maples is adopting five Nigerian children.
Tiffany recently visited Nigeria with boyfriend Michael Boulos. Mr. Boulos is from Nigeria, and showed her all the sites of the capital city, Lagos. Moved by the poverty she saw, Tiffany decided to make a difference.
"Some people would call this an act of kindness, and others would suggest there's a bit of rebellion mixed in with that kindness," remarked psychologist to the stars, Andrew Canard Ph.D. "Adopting one Nigerian child is altruistic. Adopting five when your father is a bigot raises an eyebrow."
Anonymous Nigerian officials report Tiffany at first only wanted one child. However, once she heard the plight of five orphaned sisters, her heart broke. "These children need my help and my love. This has nothing to do with my father. OK, maybe it has a little to do with my father," she said.
Tiffany is currently attending Georgetown University as a law student. Many wonder how she's going to be able to be a mom and complete her studies. Other people think it's a stupid question. "C'mon, do rich people ever raise their own kids? That's what boarding schools and nannies are for," remarked one blue collar analyst.
President Trump hasn't been on Twitter since he bashed the Bush family. After the funeral of George Herbert Walker Bush, President Trump received the happy news the clan Trump is getting five new Nigerian members. Those close to him report whenever he's about to go on Twitter and officially congratulate his daughter, he throws up in his mouth a little bit.
Meanwhile, the other Trumps are getting ready for Christmas. Eric is back on the straight and narrow after getting caught shoplifting, and Little Barron is planning what to do with the Daggers of Megiddo.
---
Did you enjoy this post? How about buying the writer a cup of coffee?
---
Andrew Hall is the author of Laughing in Disbelief. Besides writing a blog, co-hosting the Naked Diner, he wrote two books, Vampires, Lovers, and Other Strangers and God's Diary: January 2017
Andrew is reading through the Bible and making videos about his journey on YouTube. He is a talented stand-up comedian. You can find him on Twitter, Instagram, and Facebook