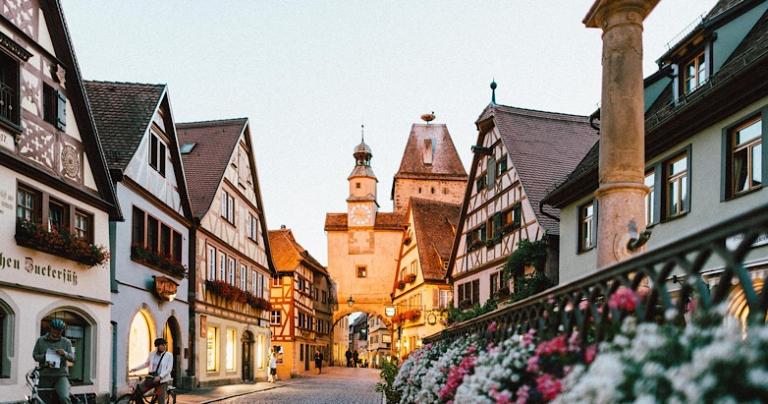 Hamberder, Germany – Up until recently no one had heard of this small hamlet on the Rhine River. However, Hamberder's population of 657 drew the world's attention when United States President Donald Trump misspelled the word 'hamburger' when he tweeted 'hamberder.' Since then it's been a living nightmare for this rustic community. In a fit of rage they burned President Trump in effigy.
Hamberder's Burgermeister Andrew Kanard spoke candidly on the situation. "Once Trump tweeted 'hamberder' people took to google and searched for it," He explained. "They found our town, and life hasn't been the same."
Every municipality in Germany has a website regardless of how big or small it is. Hamberder's immediately crashed due to all the traffic from people hungry for hamberders. Jack Matirko is their IT professional in charge of running the site. He quickly grew frustrated with the situation. Sources report Mr. Matirko turned it "off and on several times to no avail."
To make matters worse American tourists who are Trump supporters descended on Hamberder to see what all the fuss was about. The streets soon became littered with MAGA inspired litter. Discarded MAGA hats, MAGA toilet brushes, and MAGA MAGA destroyed the beauty of Hamberder.
The citizens realized they were helpless. They knew Covfefe, Switzerland suffered something similar when President Trump misspelled 'coffee.' "We'll just have to ride out the storm until he gets another word wrong," Burgermeister Kanard said.
The town grew increasingly frustrated with the situation. Tempers flared, and it was obvious people needed to let off a little steam. The grey-beard Wilhelm Gilliam suggested burning Trump in effigy would be a good way for the people to express their anger. The town council voted unanimously for the idea.
Several days later was the First Annual Donald Trump Effigy Burning. It was a smashing success. Several Trumps burned that night. Many in the town made their own dummies to bring to the town square to light on fire.
The White House hasn't responded. Insiders whisper President Trump is hard at work undermining democracy at home and abroad and can't be bothered.
---
Did you enjoy this post? How about buying the writer a cup of coffee?
---