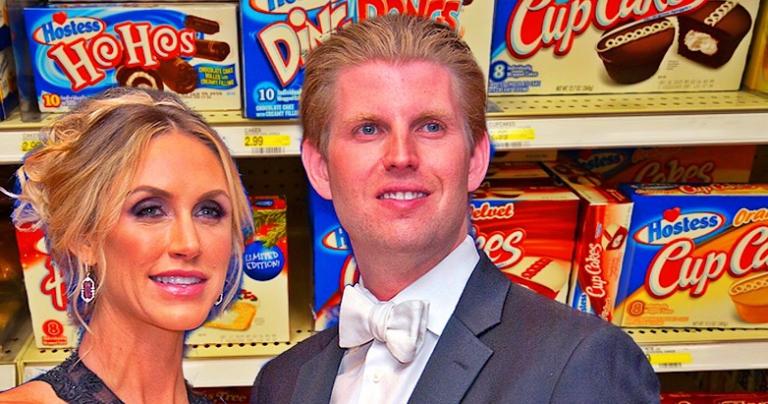 Washington DC – Lara Trump, wife of Eric Trump and spokeswoman for the Donald Trump 2020 campaign, threw a variety of Hostess snack cakes to unpaid and angry federal workers this morning.
The incident occurred at an area soup kitchen where unpaid federal workers and their families came to enjoy bone broth and oyster crackers. Lara Trump arrived with her entourage hauling bags of sugary goodness.
"We had no idea what was going on at first," stated furloughed federal employee Dan Ellis. "I got smacked in the face with what turned out to be Twinkies."
Lara Trump's media advisor Andrew Canard points out all the cakes in the Hostess family were utilized. A press release noted 'diversity is America's strength' as well as 'nutritious food matters.' Supposedly, the Hostess Fruit Pies were there so that the children could get their daily recommended servings of fruit.
Many see Lara Trump's pelting of unpaid federal workers with cake as an attempt to do damage control. Newsweek reported Ms. Trump made a statement regarding the partial federal government shutdown that rubbed people the wrong way:
The 800,000 furloughed federal employees and 400,000 working without pay due to the government shutdown over $5 billion dollars in funding for a wall on the U.S. southern border are going through "a little bit of pain," but "this is so much bigger than any one person" said Lara Trump, campaign adviser and daughter-in-law to President Donald Trump and wife to Eric Trump, to right-leaning web show Bold TV on Monday.

"We get that this is unfair to you, but this is so much bigger than any one person. It is a little bit of pain, but it's going to be for the future of our country and their children and their grandchildren and generations after that will thank them for their sacrifice right now," said Trump.
Hostess Cakes International wants nothing to do with Lara Trump's misguided attempt to save her reputation. One anonymous Hostess executive stated, "Why couldn't she have used Little Suzy Cakes?"
Elated by the experience of helping others, Lara Trump and husband Eric plan to tour the country and throw cake at all sorts of needy people: the homeless, just graduated college students with massive debt, and everyday Americans with little to no retirement savings.
Lara and Eric exclaimed, "We're making America great again! With cake!"
---
Did you enjoy this post? How about buying the writer a cup of coffee?
---