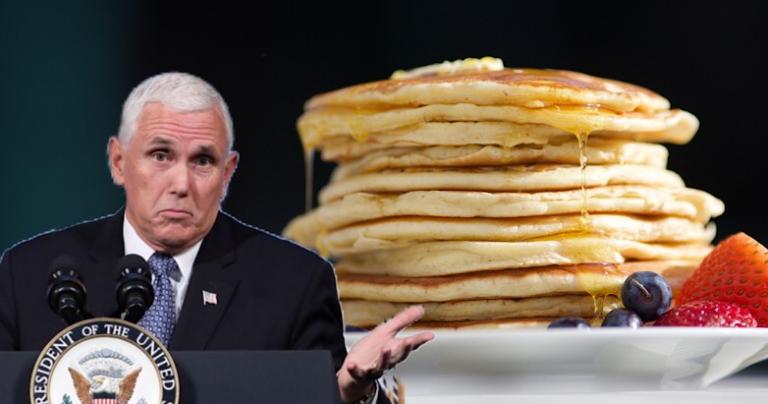 Washington  DC – Vice President of the United States Mike Pence hosted the Slaves Obey Your Masters MLK Breakfast this morning. The event drew prominent evangelicals. Those attending enjoyed hearty fare and speeches about traditional evangelical values.
The Inspiration
It's no secret the Vice President doesn't  like how Martin Luther King Day has been hijacked by liberals. "Every year Mike complains secular Democrats are making this holiday less and less about Jesus and NASCAR," one friend reported. "This year he decided to make a stand for what he believes in."
Pence supposedly got the inspiration for holding the Slaves Obey Your Masters MLK Breakfast while watching the classic 1915 documentary Birth of a Nation. "If the Knights of the Invisible Empire can't make a man more godly, who can?" Pence asked.
The Breakfast
Approximately 250 evangelical leaders enjoyed the fellowship that naturally occurs when you mix pigs in a blanket with black voter suppression. Reverend Andrew Canard heads Ninnyhammer Baptist Church. The 86-year-old man of God was impressed with the flapjacks and the all Black waitstaff. "It brings a tear to my old eyes," he said. "The Vice President even installed segregated water fountains for this event. It reminds me of the good old days."
Many from the Trump administration showed up to pay their respects. Some even spoke about how beautiful America is going to be once Trump's border wall is put up. While keeping immigrants out is a wonderful thing in and of itself, more than one speaker noted the special sauce will be ethnically cleansing America and tossing undesirables over the wall to Mexico.
Next Year
The Slaves Obey Your Masters MLK Breakfast was a smashing success. Everyone present left with full bellies and hardened hearts. Vice President Pence is vowing to hold the event again next year. However, the trick will be in making it even better. Insiders state the 2020 breakfast will have a seminar on how to finance sending certain ethnic groups back to Africa.
---
Did you enjoy this post? How about buying the writer a cup of coffee?
---