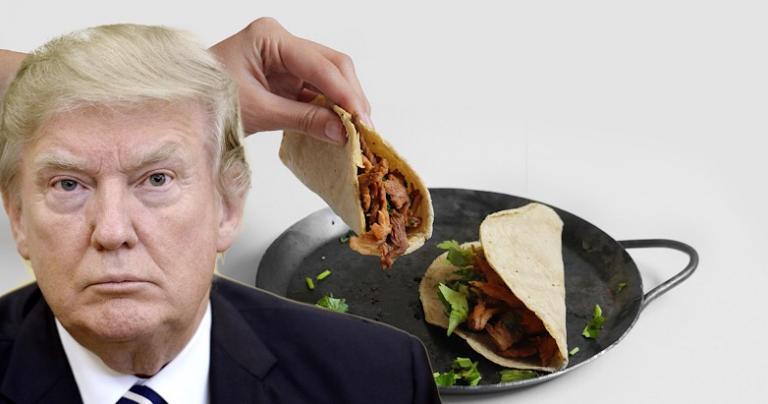 Washington DC – President Trump is telling Congress to pass a special tax on Mexican food in order to fund his border wall. Dubbed the 'Burrito Tax,' the new law would levy a 25% surcharge to all burritos, tacos, and chimichangas sold within the United States and its overseas possessions.
"I said Mexico is going to pay for my big, beautiful wall," President Trump stated, 'and it's going to happen."
Burrito Economics
Democrats and some Republicans are scratching their heads at how taxing the American people is making Mexico pay for the wall. Others are wondering how Trump could consider a McDonald's breakfast burrito to be Mexican food in the first place.
"He's telling us rice and beans are part of the Burrito Tax, but only if they are served together," noted Senator Andrew Canard (D-MA). "If they're served separately, then they're not. That's crazy — with extra crazy sauce on it."
FOX News personality Sean Hannity is heralding the move as a way to support law and order as well as bolster the all-American burger industry. "Mexican food is coming into America illegally and taking dollars away from mom and pop burger joints," he said. "That's got to stop."
Economists are universally opposed to the Burrito Tax. Some point out it's impossible for the federal government to collect the fees in the first place. For example, is the government going to go through receipts to make sure no one is sneaking a fish taco without paying extra?
Mexico Responds
The Mexican government is taking the initiative. They recently slapped a 50%  tax on hot dogs, hamburgers, and mayonnaise. Mexican lawmakers vow they will remove the fee if America builds the border wall. "We're sick and tired of Americans," one lawmaker remarked. "Is there a way for Mexico to switch neighbors? Canada seems nice."
In related news, the Canadian government officially stated it's open to new living arrangements.
---
Did you enjoy this post? How about buying the writer a cup of coffee?
---
---